As an Indian citizen living in Germany, I need a tourist visa to visit the UK. My German permanent residence does not allow visiting the UK as it is not part of the Schengen area. I have applied twice for the UK tourist visa so far, in 2020 and now in 2023. My applications were successful both times and I will describe in this guide what I did and what you should do.
Documents required
Filling the application form
Filling the tourist visa application form took me around 30 to 45 minutes. It's a long form but relatively straight forward. Here are some questions and answers that could be a good pointer for you.
What is the main reason for your visit to the UK?
Choose Tourism (including visiting family and friends)

Give details of the main purpose of your visit and anything else you plan to do on your trip. See tourist and short stays for more information.
Anything goes here but this is what I wrote: I would like to visit UK and explore several cities like London, Manchester, etc. Would probably do multiple visits in the six month visa period.

Duration of visa
6 month (this depends on what you want, the fees change based on this - more below)

Date you plan to arrive in the UK and date you plan to leave the UK
I chose dates in the next month. The date you plan to leave the UK is generally the exit of your first trip and not the last trip during which the visa is valid. This date does not affect your visa validity period.

Do you have a valid national identity card?
Yes. A blue card or residence permit works here.

Issuing authority
It's on the back of your identity card.

How long have you lived at this address?
I used the date present on my Anmeldung.

Describe your job (on the employer's section)
I wrote: Senior Software Engineer, I work on the flaconi website on both front & backend.

Where do you plan to stay in the UK? (On the Accommodation details section)
Hotels, will decide once I get the visa & book flights. I chose No for Do you have an address for where you are going to stay in the UK?
Costs for UK Tourist Visa Application
Once you have the application form filled, you can pay for your visa. These are the fees at the time when I paid for my visa.
| | Fee | Fee (in €) | Maximum length of stay |
| --- | --- | --- | --- |
| Standard Visitor visa | £100 | €121 | 6 months |
| Standard Visitor visa for medical reasons | £200 | €242 | 11 months |
| Standard Visitor visa for academics | £200 | €242 | 12 months |
| 2 year long-term Standard Visitor visa | £376 | €455 | 6 months per visit |
| 5 year long-term Standard Visitor visa | £670 | €811 | 6 months per visit |
| 10 year long-term Standard Visitor visa | £837 | €1013 | 6 months per visit |
6 months per visit here states that you can only continuously stay in the UK for 6 months before you have to exit the UK for a break until you can come back again.
In addition to this, you have a fee for the visa processing partner TLS with a minimum of about 65,91€. This can increase a lot if you choose prime appointment slots, value added services, etc but I did not use any of it. More about TLS below.
Visa application process
When you are done filling the application form, I was asked to provide biometrics and confirm identity. This took me to their partner website - TLS.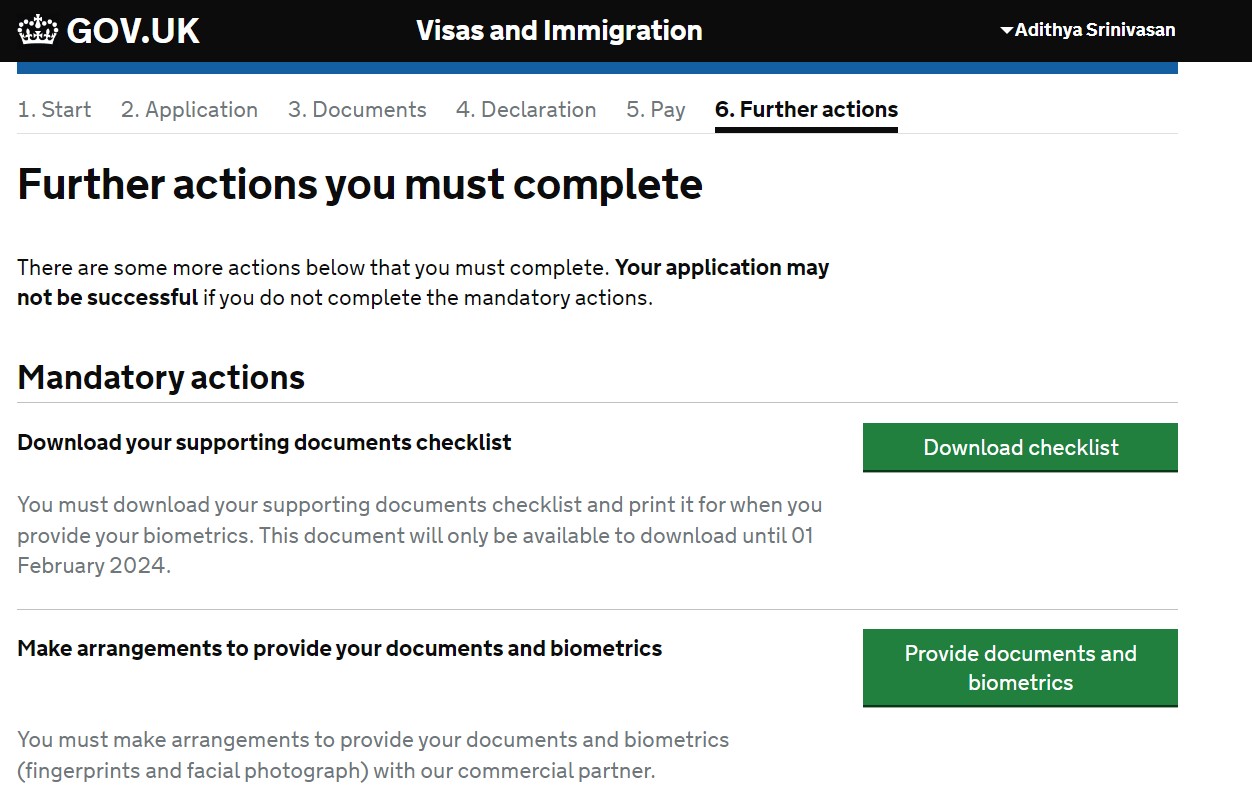 Provide documents and identity in TLS
TLS acts as a partner in a way similar to how VFS does for German visa in India. They require you to book an appointment on their website. Compared to VFS in India, TLS had a lot of available appointment slots in the same week. I booked a free slot and had to pay the amount of 65,91€ after declining to add any value added services, which really cost a lot.
Once this was done, TLS sent me an email about what I need to bring to the appointment and that I should be 15 minutes early. On the TLS portal, I also uploaded a copy of my documents mentioned above - passport, PR and proof of employment. Ensure that you do this correctly as you cannot change it once you are done uploading.
Day of appointment at TLS
I showed up early, waited outside for a few minutes until they let me inside the centre. I took printouts of the documents, the visa application checklist and only the first page of the visa application. They checked the appointment date on email, checked my bag, went through a metal detector. The person there asked for my passport and residence permit, verified it was me and they confirmed that I did upload the documents already.
Then I had to wait at the waiting room until my appointment number came up. Once it did, I went to a room where I had to say my full name, date of birth looking at a camera. Then I provided my biometric details and I was done. They provided a confirmation that they have the passport and that I need to bring this back when I will pick up the passport in around 3 weeks.
In around 2,5 weeks, they sent me an email that my passport is ready for collection. I went around 15:00 without an appointment with my checklist and picked up my passport, which had the visa printed on it. You can track the whole stages on their website.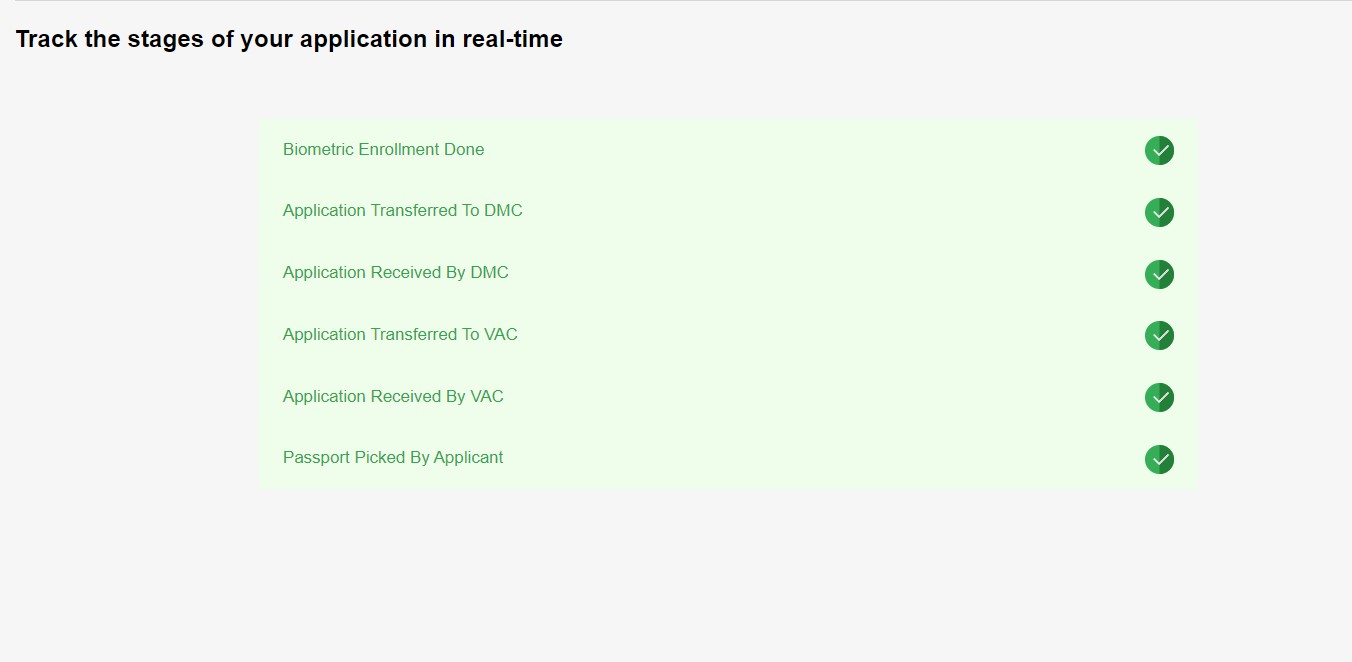 Tracking the visa stages