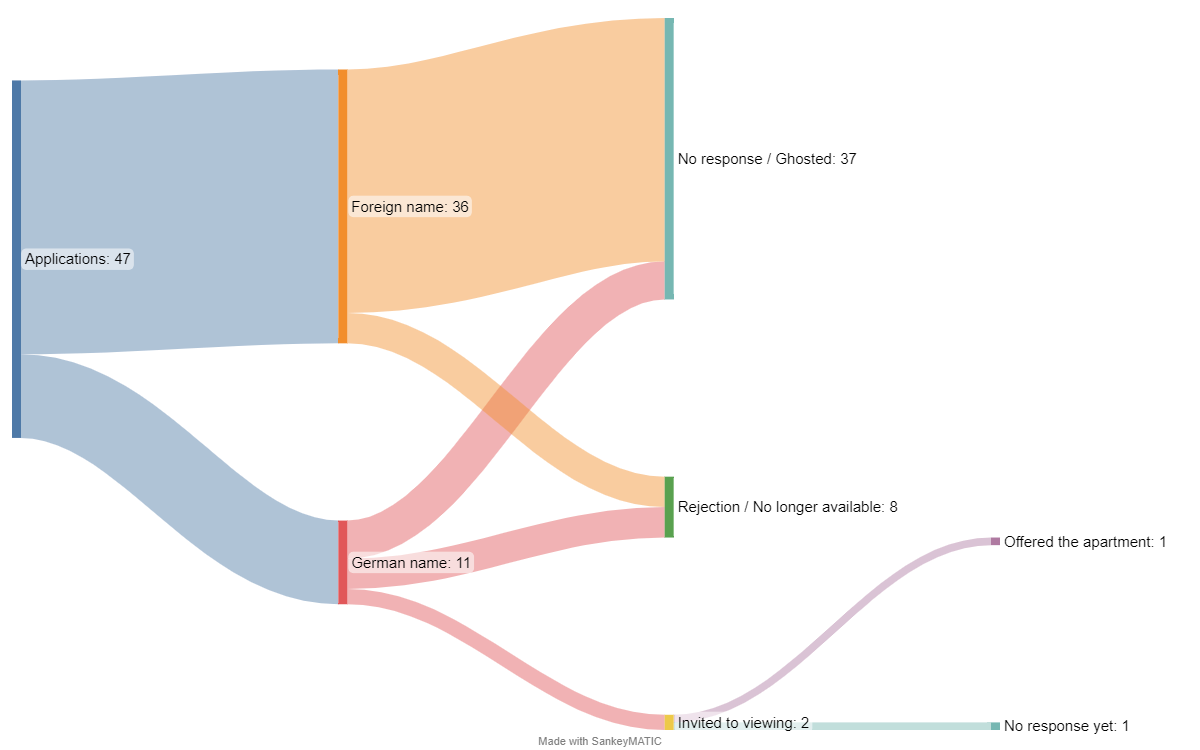 My experience of finding an apartment in Berlin - 2022
Once you find a job in Berlin, get a visa and are ready to move, you need an apartment to live. This is the most difficult part of the Berlin experience. I will write down how I found mine, what to look out for, where to find apartments, what documents you need, etc.
I have gone through this process thrice in 4 years:
Glossary
What is an unfurnished apartment?
There is no furniture in the apartment and it will be empty. You might find a stove and a sink but that is all.  
You will have to get your own:
Bed

Kitchen - Probably the most expensive part

Internet connection - takes a few weeks. Internet providers are not quick to setup connections, or anything really.

Switch your electricity provider - Electricity is available by default, although that can get expensive

Furniture - tables, chairs, lights, etc.

Washing machine, fridge, dish washer, etc.
What is a furnished apartment?
Furnished apartment includes most of the basic equipment that you require. Your rent usually includes internet & electricity. The rent is much higher, as you are also "renting" the furniture as well.
Furnished apartments are a decent solution, when you are new to Germany. You can:
Do your city registration (Anmeldung)

Rent them almost immediately, even from your home country

Easier to find than an unfurnished apartment
Although the rent is higher, it's not a guarantee to get the place if you apply. You will still be evaluated by the landlord.
You can find furnished apartments on websites like Spotahome, Wunderflats, Housing Anywhere.
What does a 3 room apartment mean?
A 3 room apartment means 1 living room and 2 bed rooms. You have a kitchen (separate or an "open" kitchen included in one of the rooms), a bathroom, a hall way. This is a 3 Zimmer Wohnung.
What is an EBK?
EBK (Einbauküche) means a fitted kitchen in your apartment. As kitchens can be really expensive, this can be beneficial.
What does cold rent mean?
Cold rent (Kaltmiete) is the basic rent you pay for the apartment. This is fixed per month and you pay additional expenses on top.
Cold rent does not include:
Heating

Expenses for cleaning trash

Internet

Electricity
You pay 3x your cold rent to your landlord as the deposit. They must return it to you when you leave the apartment. If applicable, landlords can deduct charges for your apartment maintenance, fixing things, etc and return the balance.
If you are unsure how much of your salary will be after taxes, use our income tax calculator.
What does warm rent mean?
Warm rent (Warmmiete) is the total rent you pay for the apartment to your landlord.
Warm rent includes:
Heating

Expenses for cleaning trash
Warm rent does not include:
My apartment search experience
What was the criteria for my apartment?
Me and my partner decided on a list of things we preferred. Most websites allow you to filter based on these.
At least a 3 room apartment (3 Zimmer Wohnung)

Unfurnished
I have furniture from my current apartment that I could use. A fitted kitchen (EBK) would be a nice bonus.

At least 65 m2 in size

Only rent from companies
I have heard of a lot of apartment scams when the listing is posted by a private (privat) person. I do not apply to these listings.

Cold rent (Kaltmiete) of less than 1.000€ per month

30 minutes commute to the Central station - a preference as I find myself using the central station a fair bit.
This rules out a lot of the places outside "the ring" in Berlin.

Is not part of exchange apartments (Tauschwohnungen)
Co-ordinating an apartment exchange can be tricky and I didn't want any time spent on this

Does not require WBS (Wohnberechtigungsschein) as I don't qualify for it
Which websites did I use to find my apartment?
I stuck to two websites.
These platforms provide a page for each rental company and it includes a website link most of the times. I saved them, applied directly as well. It did not make a difference for me, but I have heard it's a useful trick.
In addition, if your company or employer uses internal communication tools like Slack or Microsoft Teams, see if there is a channel for apartment hunting. A lot of my colleagues share information about available or soon to be available flats there before posting it on Facebook, eBay Kleinanzeigen or anywhere else.
Is ImmobilienScout Premium (MieterPlus) worth it?
We bought ImmobilienScout Premium because it was highly recommended. We chose the plan for two months at 29,99€ per month. It includes SCHUFA (more about this below) that you need.
We did not see any noticable differences when applying with Premium / without Premium.
Applying for apartments
We were looking for a place for the both of us. Initially, I wrote the message from my perspective and included details about my partner.

The key to applying for apartments is to apply as soon as the listing is put online. Most apartment listings were removed within the first 5 to 10 minutes of being online. These platforms provide an option to sort by newest - Aktualität (neueste zuerst).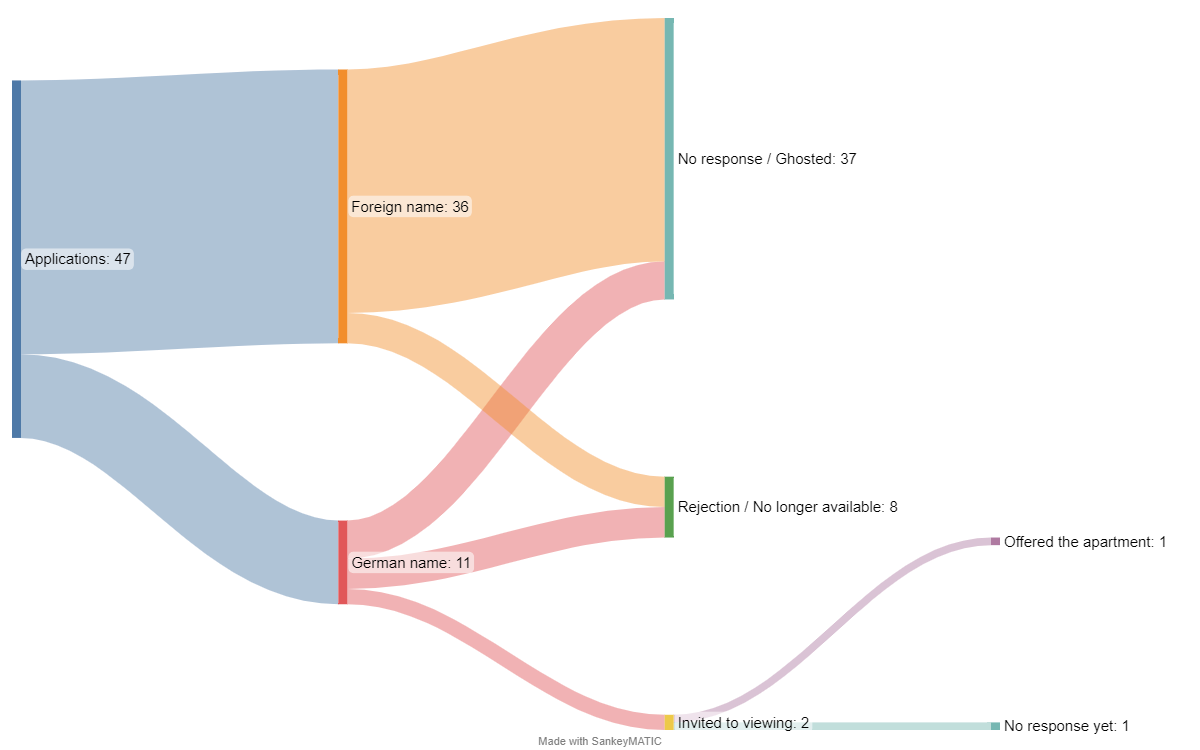 My experience with finding an apartment in Berlin as an Indian
Using my name
In 2019 when I wanted to find a long term unfurnished apartment, it was difficult. It took almost 2 months. Most of the people I spoke with, said the chances of finding an apartment would increase when I have a permanent residence.
In 2022, I have permanent residence and I don't think it made a difference. I almost never heard back from landlords, I was ghosted (no response), or sent an automated generic rejection email.
Using a German name
My partner has a German / European sounding name. I updated the name on the Profile on the platforms, wrote the introduction message from my partner's perspective.
Immediately, we started receiving appointments for viewing an apartment (Besichtigungstermin), or request for more information so they can evaluate.
Writing an introduction message
These platforms require you to write an Introduction message (Nachricht) when applying for an apartment, or send a message via the contact form (Kontaktanfrage an ...) on the listing. We wrote this in German for better chances of responses.
We included information about us, such as:
Our names

Our resident statuses - Permanent Residence and an EU Citizen

How long we have lived in Berlin

What we do for work

That we can afford the rent (3x cold rent is expected)

That we are out of probation and have a permanent work contract

That I will be the main tenant
Sample introduction message in German
Here's a sample version for two people from my partner's perspective. Use the right greeting.
If the landlord is a man, use Sehr geehrter Herr Y

If the landlord is a woman, use Sehr geehrte Frau Y

If it's a company or you have got no clue, use Sehr geehrte Damen und Herren
Greeting here,
Mein Name ist X, ich und mein Freund sind auf der Suche nach einer Wohnung. Ich komme aus land und lebe, so wie auch mein Freund, seit 4 Jahren in Berlin. Wir arbeiten beide als Softwareentwickler und verdienen genug, um das Dreifache der Kaltmiete zu zahlen. 

Mein Freund, welcher der Hauptmieter sein wird, ist bei seiner Arbeit nicht mehr in Probezeit. Wir würden uns sehr gerne für diese tolle Wohnung bewerben.

Herzlichen Dank!
X
Documents required for the apartment
You should get all the documents ready before you start your search for the apartment. You should hide or redact sensitive information that your landlord does not need to know.
Proof of income
Last 3 payslips or work contract

Proof of identity
For German / EU citizens, a copy of your national ID is suffient. I needed to submit a copy of my passport and residence permit (Blue Card, Permanent Residence, etc).

Rent debt free certificate (Mietschuldenfreiheitsbescheinigung) - optional
This proves that you don't owe any rent to your current / previous landlord. Sample of this available below on this page. If you're new to Germany, you don't need this.

If you don't have this, you can show last 3 or 6 months of rent payment from your bank account statement.

SCHUFA
I got one from Immobilien as part of their premium version. You can get one for free (datenkopie) or paid through MeineSchufa. You can read more about SCHUFA. Short term apartments generally do not ask for SCHUFA.

Application form (Selbstauskunft) - when available
If your landlord sent you an application form, fill it out, print it and take it to the appointment.
If you don't have a bank account yet in Germany, consider using Wise. You can set up automatic payments for rent using it.
How to fill out the application form for the apartment?
Application form (Selbstauskunft) is something you have to fill out if you want to have a chance at getting the apartment. It is a self-disclosure form.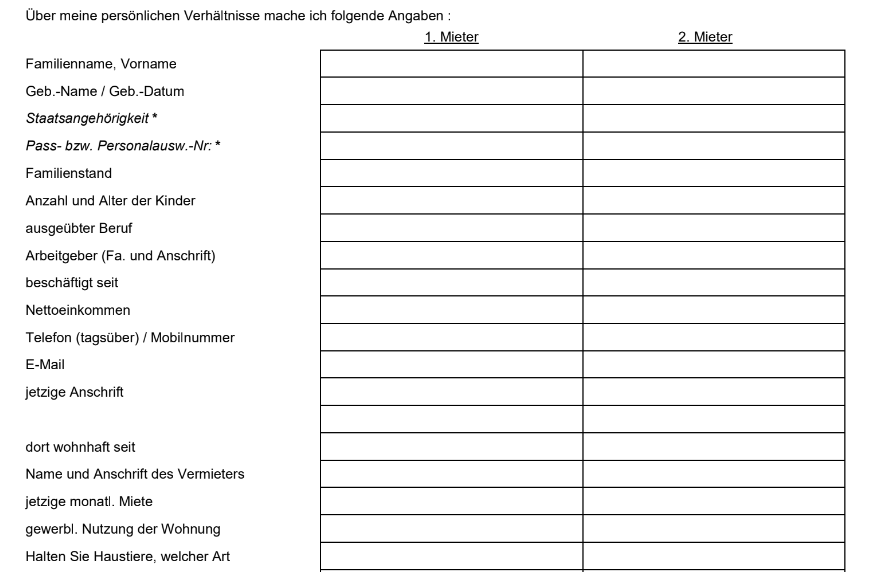 Sample application form - Selbstauskunft
For two people, you'll have to fill out both the columns. Most of the forms have similar fields, but not the same fields. This varies from company to company.
Familienname, Vorname
Family name, first name

Geb. -Name / Geb. -Datum
Birth name, Birth date

Staatsangehörigkeit
Citizenship

Pass- bzw. Personalaus. -Nr: *
Passport or Personal ID number

Familienstand
Relationship status

Anzahl und Alter der Kinder
Number and age of Children

ausgeübter Beruf
Profession / Job

Arbeitgeber (Fa. und Anschrift)
Employee and address

beschäftigt seit
The date / month since you have been employed

Nettoeinkommen
Your net salary. Check out our gross to net salary calculator.

Telefon / Mobilnummer
Telephone or mobile number

E-mail

jetzige Anschrift
Your current address

dort wohnhaft seit
Date / month since you have been living at your apartment

Name und Anschrift des Vermieters
Name and address of your landlord

jetzige monatliche Miete
Current monthly rent

gewerbl. Nutzung der Wohnung
Do you use the apartment for commercial purpose?

Halten Sie Haustiere, welcher Art
Do you have pets? If so, which ones?
What happens at the apartment viewing?
After applying on the platforms, you get invited to an apartment viewing. There are two major kinds.
Private
They invite you to a private viewing where you are allocated 10 to 15 minutes. This can be just you, or with a limited set of other applicants (2 to 3). Private viewing gives you the best shot at making an impression. We got a private viewing.

Public
You and 100 other applicants show up to an apartment viewing. You queue up outside the apartment and go inside in a bunch.
If you're happy with the apartment and you've clarified your questions with the agent present there, you can ask how you can apply.

It is a good idea to submit the documents there if you have it, including the application form. If not, you can ask if you can send it via email.
Sending an email after the apartment viewing
This is an optional step. When we like an apartment, we submit the documents. After that, in a day or two, we send in a short email thanking them for showing us the apartment and that we are really interested in the apartment.
The day we sent this email is the same day that the company got back to us via phone to let us know we got the apartment. Here is a sample email:
— greeting here
Wir möchten uns dafür bedanken, dass Sie sich heute die Zeit genommen haben zum uns die Wohnung zu zeigen. Sie hat uns wirklich sehr gut gefallen. Wir freuen uns schon auf ihre Rückmeldung, und nochmals vielen Danke für den Termin!

mit freundlichen Grüßen
X
What does a Rent debt free certificate look like?
Here's a sample Mietschuldenfreiheitsbescheinigung that I received from my landord. You can ask them to provide you one. They will send it via email or post.

The letter basically says "Your rent payments have been made regularly and on time over the past twelve months." except for outstanding bills for heating and maintence costs, which is calculated at the end of the year.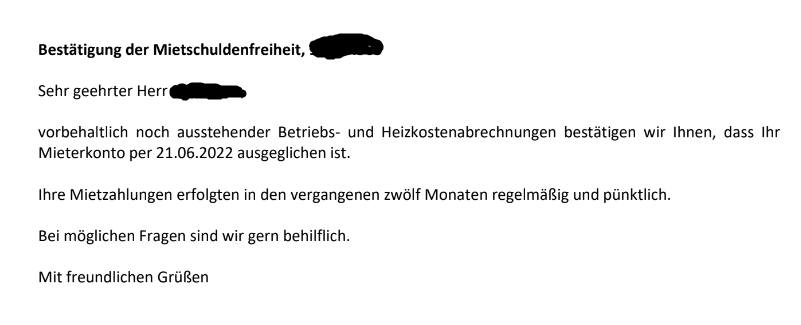 Sample rent debt free certificate (Mietschuldenfreiheitsbescheinigung)
Do I have to speak or write in German?
No, but it helps. In this competitive rental market, we had to squeeze every bit of advantage. One such thing is to speak German. Even if you don't speak well, knowing a few words or sentences really help. You can learn a bit using Babbel.
Can I receive a holiday for moving apartments?
Yes, most employers can provide a day off under special holidays (Sonderurlaub). Ask your employer and make use of it.
Does probation affect chances of finding an apartment?
Yes, it does. Being in probation period reduces your chances, as landlords want to see stability and that you'll be able to pay your rent on time.