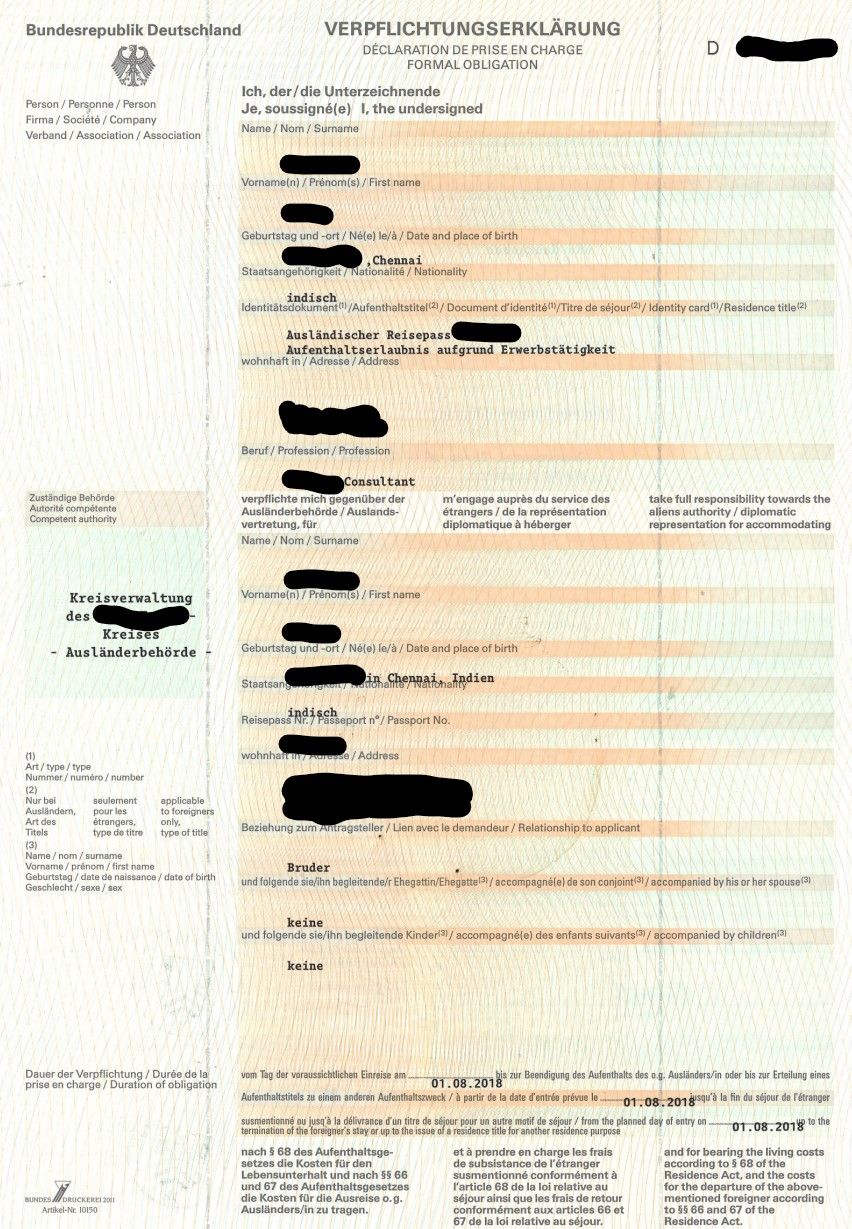 Sample Verpflichtungserklärung for my tourist visa
Before moving to Germany for work, I visited on a tourist visa (Schengen visa - Type C) twice from India. In guide, I'll write about how to apply for a German tourist visa and what you need to do to visit your friends or family, or go on a joy trip across Germany.
Applying for the visa
What is the difference between tourist visa and a visit to friends or family visa?
They are essentially the same. The documents you require for these visa's can differ. If you are visiting your friends or family, you should submit a document for sponsorship (Verpflichtungserklärung). See below for information on what it is and how to get it.
Where to apply for your Schengen tourist visa
You must send in the application to German Consulate or Embassy which is responsible for your area of residence. For tourist visa, VFS handles the application process. See which consulates are more likely to reject your schengen visa application.
You must apply at New Delhi if you live in
Haryana Jammu & Kashmir, Punjab, Rajasthan, Sikkim, Uttar Pradesh, Uttarakhand, Himachal Pradesh, Union Territories of Chandigarh, Andaman and Nicobar Islands, NCT of Delhi, Lakshadweep including Minicoy and Amini.

You must apply at Chennai if you live in
Tamil Nadu, Andhra Pradesh, Telangana & Pondicherry

You must apply at Mumbai if you live in
Maharashtra, Gujarat, Goa, Madhya Pradesh, Chhattisgarh, Daman and Diu

You must apply at Bangalore if you live in
Karnataka and Kerala

You must apply at Kolkata if you live in
West Bengal,  Jharkhand, Orissa, Assam, Bihar, Manipur, Meghalaya, Mizoram, Nagaland, Tripura and Arunachal Pradesh
For example, if you are from Andhra Pradesh, you must apply at the VFS center in Chennai.
Note: If you are staying in multiple Schengen countries, you must apply at the country's VFS / Consulate / Embassy where you will stay for the longer period.
What are the required documents for a Schengen Visa?
Here is the list of documents that you should submit. You can see the up to date information here.
Valid passport

Must be issued within last 10 years

With at least 3 months validity after the scheduled return

With at least 2 empty pages

Must not have observations on the front page

Must provide 1 copy of your passport's data page (A4 size copy)

2 passport pictures according to biometric specifications, not older than 6 months

Application form & declarations duly signed (see section below on how to fill the form)

Personal covering letter explaining the purpose of your visit

Leave letter of your company (if you are employed)

No-objection certificate of school or university (if you are a student)
Financial proof:
Proof of financial status:

If employed: Payslips of the last three months / employment contract/Appointment letter

If self-employed:

Certificate of Proprietorship or other proof of ownership (proof of land title, proof of income from agriculture (sales form) etc.)

(or) Personal bank statement of the last three months with sufficient funds

(or) Last three years Income Tax Return (ITR) form or Form 16 (Certificate of Income Tax deducted at the source of salary)
Accomodation proof:
Proof of accommodation for your entire stay in the Schengen area - this is where you will stay during your trip. Hotel bookings, Airbnb, etc., are valid. You can reserve bookings with cancellations, if you prefer.

Flight reservation, (rail tickets, others for travel within Schengen)

Travel health insurance (refer here to find out about the travel health insurances accepted)

Proof of civil status: Marriage certificate, birth certificate of children, death certificate of spouse, ration card if applicable
---
If you are invited by someone (your children, partner, friend, etc), they should provide additional proof.
Proof of sufficient funds for the visit:

If sponsored: Verpflichtungserklärung (original formal obligation letter) of your sponsor (read below)

Invitation Letter form the inviting person (you don't need this if you do not have anyone inviting you)

Inviting Person: Passport copy and Resident Permit Copy (daughter and son in law or son and daughter in law)

If self-sponsored: Personal bank statements of the last 3 months with sufficient funds
---
If you are a minor or accompanying a minor:
For Minors:

Application form and declarations signed by both parents

Consent letter signed by both parents.

Clear Copy of the parent(s)' passports data page

Birth certificate of the Minor
---
Sample Cover Letter
Your name

Address

Phone number

Consulate General of the Federal Republic of Germany

Address of your consulate / embassy

City, date in dd.mm.yyyy

Application for the Schengen Family Visit / Tourist Visa

Dear Sir/Madam,

We would like to apply for a Schengen family visit visa to travel to Germany from date to date.

---- for family visit ----

We would like to visit our son / daughter / friend and have included the information here:

Name of the person

Address

They will be funding all the expenses for the trip. I have attached the "Verpflichtungserklärung Formular" and the identity documents.

---- for tourist visa ----

We would like to visit Germany and have included the hotel bookings & accomodation information.

--- for both -----

Please find the following documents to support our visa application enclosed herewith:

- Application Form

- Copy of Passport's data page

- Flight tickets

- Travel health insurance

- Verpflichtungserklärung Formular

- Our personal bank statement

- Proof of accomodation

Please feel free to contact me anytime if you have any questions and clarifications. Thank you very much for your consideration and I look forward to visiting Germany.

Sincerely,

Your name

X
Filling out the Application Form
Once you have chosen which Consulate or Embassy to apply, you must fill in the application form. Most of the application form requires your personal information and purpose of travel. When filling the form, use the information from your passport as reference.
I'll write down explanations of a few things that might be confusing.
Is your residence in a country other than that of your current nationality?
If you're an Indian citizen living in India, choose yes.

Identification papers and travel documents is your passport. Issued by is your passport office, you can find this on the first few pages of your passport. My passport says Regional Passport Office, Chennai.
Under travel data, you will see questions about your purpose of visit.
Main purpose(s) of the journey: Choose Tourism, or Visit of family or friends

Member state of first entry: Germany
Unless your first entry - where you enter EU and exit - is different. Your connecting flight does not matter. This is where you first leave the airport of a country.

If your flight is from Chennai to Dubai to Germany, choose Germany.
If your flight is from Chennai to Paris to Germany, choose Germany.
If your flight is from Chennai to Paris, you exit the airport and take the train / car / bus to Germany, choose France.

Main travel destination(s): Choose the country where you will stay the maximum number of days.

Number of entries requested: Single entry or multiple entry. Single entry means you can enter the Schengen states only once until you leave. Multiple entries allow you to leave Schengen states and come back within the validity of your tourist visa.

Intended date of arrival in the Schengen area: When your flight will reach a Schengen state

Intended date of departure from the Schengen area: When you plan to leave the Schengen states

Duration of the intended stay or transit (number of days): Use a days calculator. This is important. Your visa is most likely granted only for the duration you specify. Include both the start & end date in your calculation.

Have you been issued with a Schengen visa within the last three years? Specify when if you have already gotten a Schengen visa.
Entry permit for the final country of destination, where applicable: fill this if you plan to enter your destination through a different Schengen state
For the Reference section: If you are visiting friends or family, use this section to fill their information.
Finding an appointment at VFS
Booking an appointment at VFS can be tricky. Most of the times that I have looked at it, there are no appointments. What helped me was constantly refreshing at different times during the day and eventually finding one.
Create an account here and activate it

Click on "Start new booking"

Book schengen visa appointment at VFS
Choose "Visa application center" at your city or the city where you are supposed to apply.

Choose "Schengen visa" as the appointment category.

Choose "tourist" or "visit (family & friends)" depending on your purpose of visit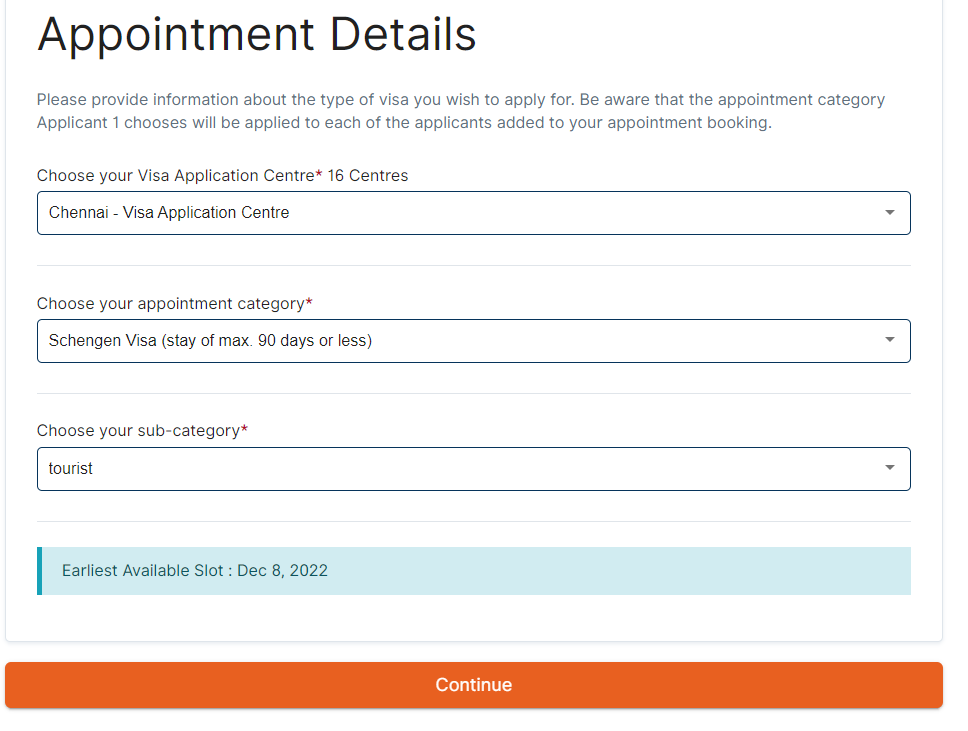 Appointment selection at VFS
Enter your details as it is in your application form & passport.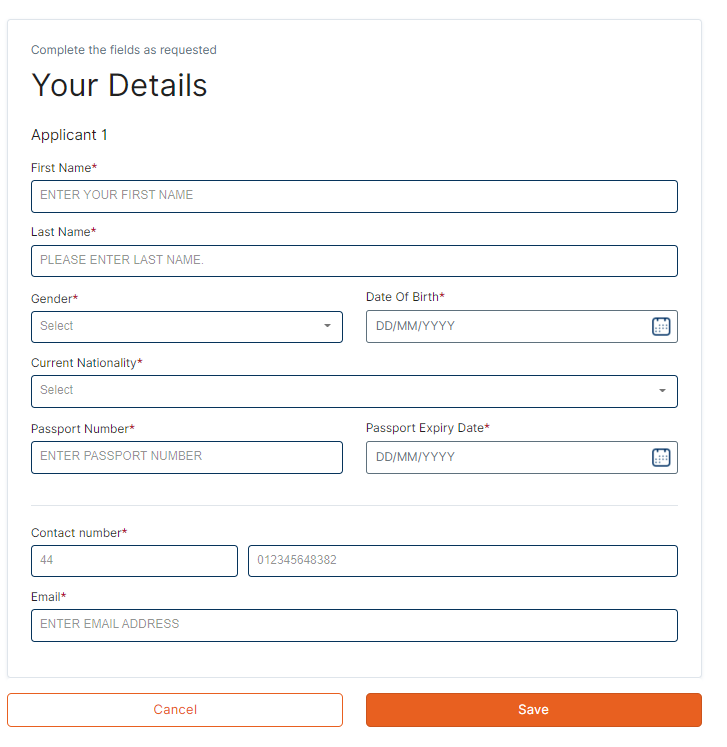 Enter your details for the appointment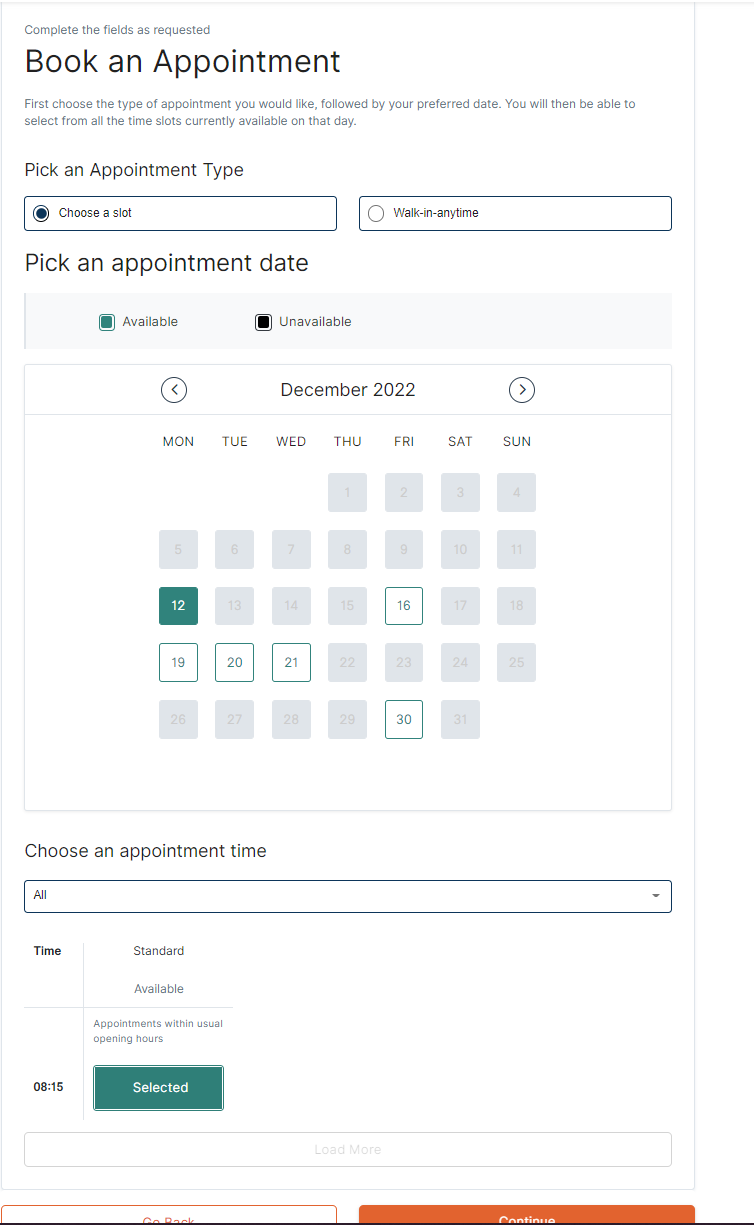 Date & time for the VFS appointment
You don't need premium services. Continue with the form and you will receive a confirmation letter. You need to take a print out of this to your appointment.
VFS Appointment Day
Go to your appointment 15 minutes early

Show your appointment confirmation printout at the entrance, there is a security check

Once you are done, get a token number for your appointment

Wait till your number is called or is on your screen

Go to the case worker at the counter, provide documents including the passport from the checklist

Once all documents are submitted and are ok, you will need to submit your biometrics

Pay the fees by cash or card, get confirmation of your application

Optional service is delivery of your passports. The delivery address can be different from the passport address.
Tracking your application
Once it is submitted, you will receive a tracking number for your application by SMS / Email. You can track it here.
Enter your reference number

Enter your last name

Enter the captcha
You will see a blue line text under the submit button that shows the status of your application.
Receiving the passport back
If you chose the courier service, your passport will be delivered to the address you provided. If not, you have to go back to the VFS center. Take your confirmation of the application and an ID card.
Approved Visa
Once you get the passport back, check the pages. You should see a visa printed with your details. Congratulations! Ensure that the details are correct!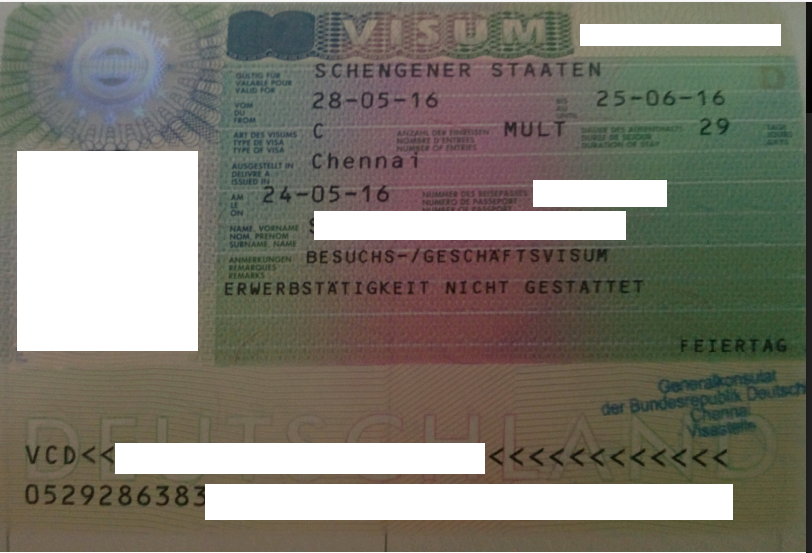 My Schengen Tourist Visa from India
Rejected Visa
If your visa has been rejected, you will receive a letter with your passport that has the reasons for your rejection. Most likely cause is the lack of proper documentation. You will have 30 days to appeal back to the consulate / embassy.
Frequently asked questions
How long is the tourist visa valid for?
With a tourist (short-stay) visa, you can stay in Germany for up to 90 days within a period of 180 days. It is also called a "Schengen visa".
What is the cost of a Schengen visa?
This is per person.
| | | |
| --- | --- | --- |
| | EUR | INR* |
| Adults | 80 EUR | 6700 INR* |
| Minors (6 to 12 years old) | 40 EUR | 3400 INR |
| Minors (under 6 years old) | 0 EUR | 0 INR* |
You can see the up to date information here. * indicates that there could be a change in the amount due to currency conversion.
Can I visit other countries in Schengen area?
Yes, you are allowed to visit other Schengen countries like Germany, Austria, Belgium, Croatia, the Czech Republic, Denmark, Estonia, Finland, France, Greece, Hungary, Iceland, Italy, Latvia, Liechtenstein, Lithuania, Luxembourg, Malta, the Netherlands, Norway, Poland, Portugal, Slovakia, Slovenia, Spain, Sweden and Switzerland.
If you visit other Schengen countries, you do not need a separate visa. The number of days you spend in any of these countries count towards your total allowance of days you are allowed to stay in Schengen area (see duration of stay below).
What is an Verpflichtungserklärung?
If someone invites you to Germany for a short time, they can submit a declaration of commitment for you. This is especially useful if you cannot pay for the cost of your stay in Germany by yourself. The declaration of commitment is generally recognised by German missions abroad for up to 6 months after it has been issued.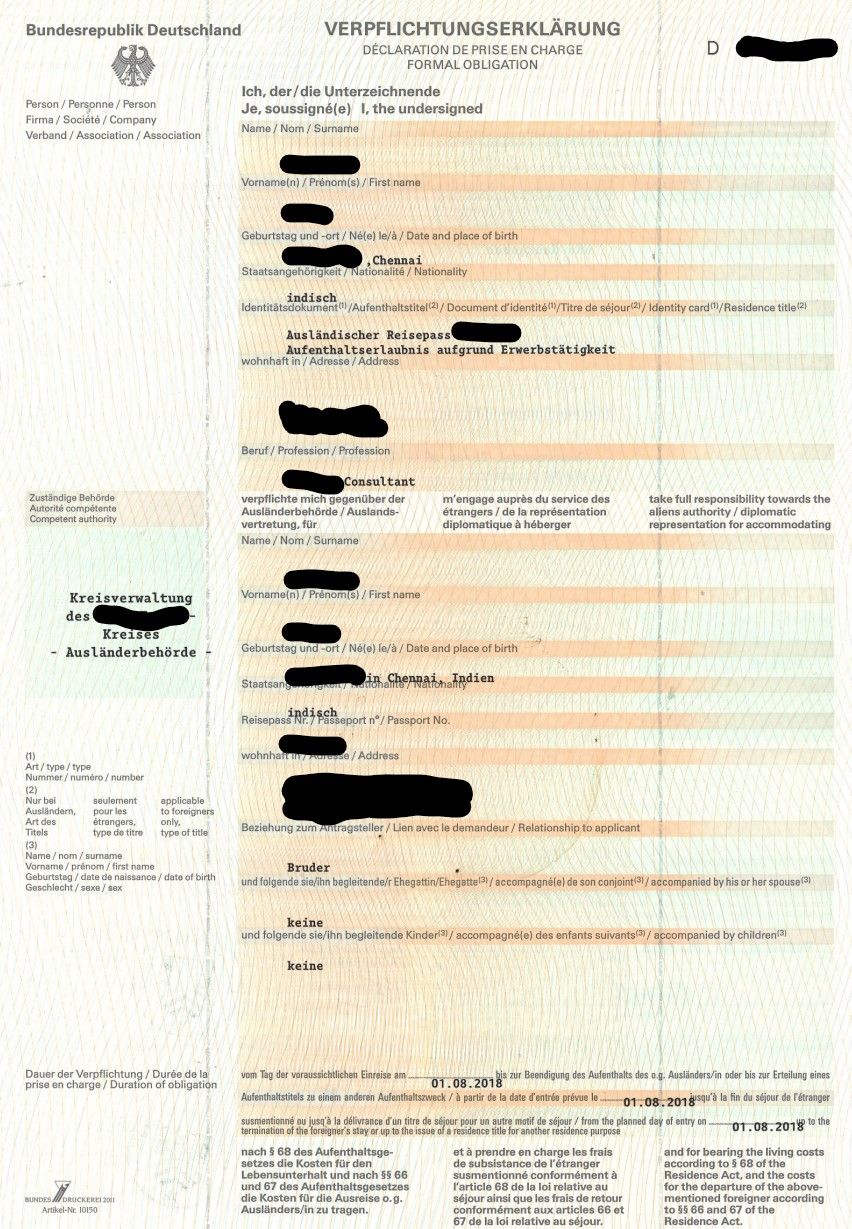 Sample Verpflichtungserklärung for my tourist visa
Where to get the Verpflichtungserklärung?
You can request this sponsorship letter at your Ausländerbehörde. For Berlin, you will find appointments and information here.
Can I get a single Verpflichtungserklärung for multiple people?
Yes, you can invite partners / children of the same family in the same application.
What does a Verpflichtungserklärung cost?
It costs 29€ and you can pay by cash / card at the Ausländerbehörde.
How early can I apply for the visa?
The earliest you can apply is 6 months before your trip starts.
Can I leave the Schengen area and come back?
This depends on your visa. Check your visa on your passport to see if multiple entries are allowed. Next to "Number of entries", it should say "MULT".
What does the duration of stay mean?
It indicates how long you are allowed to stay in the schengen area within 180 days. If it says 50, then you are allowed to stay 50 days in Schengen area in the 180 day period.
What does the valid from and to mean?
It indicates when you can enter and when you must leave the Schengen area.
What does "Erwerbstätigkeit nicht gestattet" mean?
It means you are not allowed to work - either self-employed or employed - on a Schengen visa. See how to get a job seeker visa for Germany or blue card.