I moved to Germany in October 2018 from India after finding a backend developer role in a startup in Berlin which provided visa sponsorship. Companies in Germany can choose the fast-tracked procedure for skilled workers. A skilled worker is defined as the following by the Federal Foreign Office.
There are two categories of skilled workers, those with professional training and those with academic training. Degrees earned abroad must be officially recognised in Germany. Skilled workers with professional training must have completed an officially recognised professional training programme, which according to German law must be at least two years in length. Skilled workers with academic training must have earned a degree from an institute of higher education. Skilled workers may take up a position only if it is considered qualified employment.
As a result, a lot of companies in Germany offer visa sponsorship. This is also common in Netherlands which has a favorable 30% ruling for the employer.
Permanent Residence - Niederlassungserlaubnis
I met the requirements to obtain Blue Card in 2018 and since then, it has changed a bit. The conditions I met were
A skilled worker

Graduate with a degree certificate from a recognized university

Have an employment contract in the same field as my degree

Make at least 44,304 Euros (this was lower in 2018)
To apply for Niederlassungserlaubnis in Berlin as a blue card holder, this is where I qualified.
Possess the EU Blue Card

33 months of employment (must contribute to the pension fund Rentenverischerung)

Main residence in Berlin

Health Insurance
Benefits of Permanent Residence in Germany
On a Blue Card in Germany, if I lost my job, I will have 3 months to find a job. Or leave the country.
Permanent Residence (PR) in Germany lets you
Stay in Germany for an unlimited period without a job. Unemployment is not an issue and will not force you to leave the country.

Allows you to study, do business or work unrelated to your degree

PR card can expire, however the benefits / residence title does not

Change Jobs - No need to notify any authorities, unlike in some cases in Blue Card here

Work in a different country in EU

Live in an EU country for a longer period. A Blue Card only allows you to stay for 90 days in a 180 day period

Guaranteed Social Security Benefits if you lose your job

Banks prefer PR over Blue Card for giving out loans
One of the downsides is that on PR only lets you stay outside Germany for 6 months, while Blue Card allows up to 12 months in Non EU countries. If you're outside Germany for 6 months, your PR expires.
Timeline of my application
I had completed my German courses (without the exams) in July 2020, so as soon as it was legally possible, I sent in an application to Ausländerbehörde.
Note: It is not possible to book an appointment online. You must send in an application by post, or ask for appointment through the contact form: See how you can book an visa appointment in Berlin.
02.07.2020: Send application via the form in berlin.de for the department B2 after 21 months in Germany

03.07.2020: Automatic Response next day of acknowledgement

05.01.2021: Months of no response for follow up emails, someone said that I should contact department B1.

06.03.2021: After following up, a case officer asked for updated documents.

10.04.2021: So I submitted my latest Arbeitsbescheinigung (Proof of employment), Rentenverischerung (Pension contributions, which take at least 2-4 weeks to arrive), salary slips, etc.

19.04.2021 to 17.05.2021: All subsequent emails or requests for appointments bounced because the case officer's inbox was full.
Das Postfach des Empfängers ist voll und kann zurzeit keine Nachrichten annehmen. Versuchen Sie, die Nachricht später erneut zu senden, oder wenden Sie sich direkt an den Empfänger.
27.05.2021:  After submitting the form again in the last week, another case officer emailed me asking for updated documents. They said I should wait until 33 months since I don't have a B1 certificate, to give me an appointment.

04.08.2021: Received an appointment for September 2021.

22.09.2021 - Interview / Appointment

19.10.2021 - Received the Card
The day of appointment at Ausländerbehörde
Showed up with the latest Payslips, Proof of employment, Passport and a biometric photo. I switched my employer in August 2021, and I read that being in probation could be an obstacle to "Secured means of subsistance including health insurance". The case officer asked for my contract, proof of employment and my resignation from the previous employers.
They didn't ask for the language certificate, the entire conversation / interview was in German which they said would be enough to show that my German is at a sufficient level. This took around 20ish minutes and was pleasant. Was asked to pay the fee of 113 Euros and that I should receive the electronic card in 6 to 8 weeks.
Getting Pension Contributions faster (Rentenversicherung)
If you have an online ID (with electronic residence title), Deutsche Rentenversicherung, for example, offers a faster way to obtain the information without waiting for 2-4 weeks.
https://www.personalausweisportal.de/SharedDocs/anwendungen/Webs/PA/DE/Bund/bund_deutsche_rentenversicherung.html
How to get both Blue Card and Permanent Residence?
In Germany, it is possible to keep both Blue Card and Permanent Residence. Inform your case worker about your preference under Section 18c (2) of the Residence Act (AufenthG). Here is the letter that one of the members in a Berlin Facebook Group received (translation below)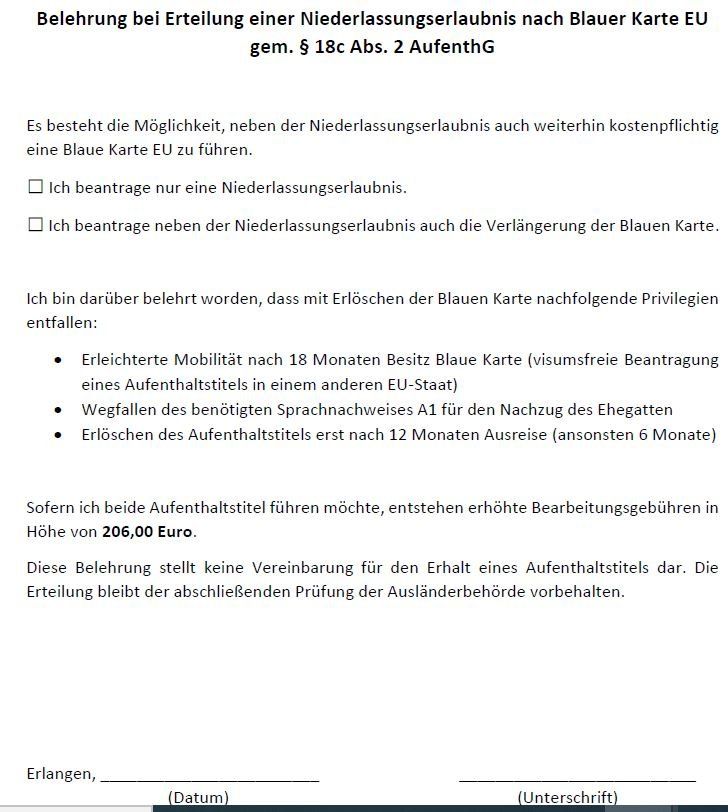 Instruction in case of issuance of a settlement permit according to the EU Blue Card pursuant to Section 18c (2) of the Residence Act (AufenthG)
Instruction in case of issuance of a settlement permit according to the EU Blue Card pursuant to Section 18c (2) of the Residence Act (AufenthG)

In addition to the settlement permit, it is possible to continue to hold an EU Blue Card for a fee.
-  I am only applying for a settlement permit.
-  I apply for the extension of the Blue Card in addition to the settlement permit.
I have been informed that the following privileges cease to apply when the Blue Card expires:
- Facilitated mobility after 18 months of holding the Blue Card (visa-free application for a residence title in another EU country)
- Elimination of the required proof of language Al for the subsequent immigration of the spouse
- Cancellation of the residence title only after 12 months of departure (otherwise 6 months).

If I want to keep both residence titles, there will be an increased processing fee of 206,00 Euro.
This instruction does not represent an agreement for the receipt of a residence title. The issuance of a residence permit is subject to the final inspection of the foreign authorities.