If you have a job offer, you can get a work visa for Germany (including a blue card). If you don't, you can make use of the Job Seeker Visa (JSV) to move to Germany and then find a job.

In this guide, I will explain how to apply, who qualifies, how long the visa is valid for and how you can find jobs in Germany.
What is the Job Seeker Visa?
It is a temporary work permit issued to highly qualified candidates who would like to work in Germany. This means that you can enter Germany without having a job and then apply for jobs. Reference in German.
Why should I get a Job Seeker Visa?
It is easier to find a job in Germany when you're in Germany than when you are abroad. As you are already in Germany, you can start working earlier as soon as you convert your visa to a work permit.
What are the requirements for Job Seeker Visa?
Qualifications
University degree which is recognised in Germany, or equivalent to a degree from a German university. Check Anabin for your degree's recognition and your university recognition. Or vocational training, with atleast 2 years of training.

Work experience. It should be related to what you studied. 5 years seems to be standard, although I have seen people with 3 years get the visa successfully.

Travel insurance or health insurance. Must cover the entire Schengen area with minimum coverage of 30,000 €. Insurance must be valid from the day of entry for the entire stay

Proof of financial means. This shows how you will pay for your expenses in Germany. It can be your bank account or blocked bank account (Sperrkonto), formal obligation letter (Verpflichtungserklärung), etc.
Documents required
The list of required documents change based on where you are applying from. For Indians, here's the list.
Passport.
- Must have been issued in the last 10 years
- Must be valid for another 12 months after the scheduled return
- Provide a A4 sized copy of your front & back pages

Passport sized pictures
- 3 copies
- Must conform to biometric specifications

Cover letter
- Write why you want to come to Germany
- How you plan to find a job
- What you will do in case you cannot find a job
- Can be in English

Proof of academic qualification and work experience
- Screenshots from Anabin about recognition
- Your university degree
- Your work experience proof (Existing work contract, etc)

CV
- Include your educational & professional history

Proof of accomodation
- Where you will stay; whether it's a hotel, an apartment, with a friend or family. Read about how I found an apartment.
- If with a friend or family, the formal obligation letter (Verpflichtungserklärung) helps your case

Proof of financial means
- the formal obligation letter or bank account

Proof of personal status
- Ration card or Aadhar card
- Marriage certificate if applicable
- Birth certificate of you; also of your partner's & children if applicable
- Should be in English

Demand draft / cash for verification of documents

Proof of health insurance
How do I apply?
To apply for the job seeker visa for Germany from India, you must follow this.
Get all the required documents

Fill the application form - check out our guide for filling the work visa form

Fill out and sign the declaration forms mentioned here

Find an appointment - you can do this only via Embassy / Consulate or through VFS

Pay the visa fee (around 75€)
Frequently asked questions about Job Seeker Visa
Can I extend the visa?
The visa cannot be extended. If at the end of 6 months you cannot find a job, you must return to your country.
My degree / university is not in Anabin, what can I do?
You are required to apply to Anabin / ZAB to have your degree evaluated. See this guide on how to do this.
How much money do I need to show in a bank account?
For a blocked bank account (Sperrkonto), you need 861 Euros per month. For six months, that would be 5166 Euros.
How long is the Job Seeker Visa valid for?
It is valid for a period of 6 months. If you found a job within 6 months, you can apply for a conversion of a visa and stay in Germany. If not, you must leave the country.
Can I start working elsewhere on a German Job Seeker Visa?
Partially yes. You can work for up to 10 hours a week on a probational basis or a normal part time job. The normal part time job does not have to be related to your work experience.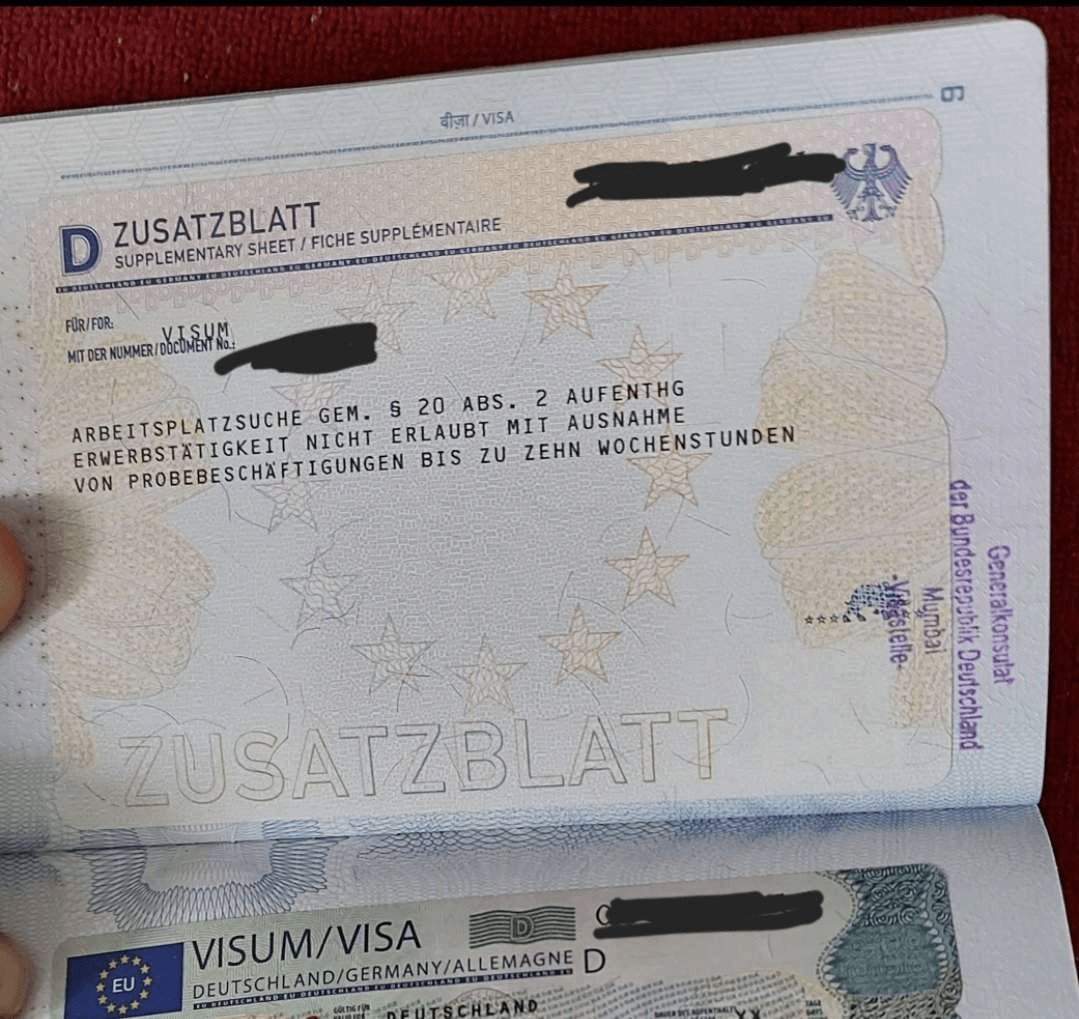 Job Seeker Visa allows for 10 hours of trial work in Germany
Full time employment is not allowed. To start working, you must apply at the local foreigners office (Ausländerbehörde) for a work visa.
You are allowed to attend German language classes with this visa, as it can improve chances of you finding a job in Germany.
Can I come to Germany on a tourist visa and find a job?
That is not allowed for citizens of most countries. Citizens of certain countries may enter Germany on a visitor visa for up to 90 days and then find a job.
Others must apply for the correct type of visa to find work in Germany.
Do I have to speak German for a job seeker visa?
It can help if you do, but it is not required depending on your type of visa.
Not required for:
Skilled workers with qualifications

EU Blue Card

Language learning / conducting research / related to an internship
A2 level required for:
Recognition of foreign qualifications
B1 level required for:
Employment for those with vocational training

Training

Skilled workers in IT without formal degree / qualification
B2 level required for:
Studying

Finding a training place
Should I translate my documents to German?
Unless it's required by the Embassy / Consulate, you do not need to. Your CV / Resume can be in English too.
Can I do self employment on a job seeker visa?
No. It is not allowed.
Can I travel to other Schengen countries?
Yes. From Diplo.de, it says:
Although the jobseeker visa is called a "national visa", please note that it does also entitle its holder to enter other Schengen countries for a stay of up to 90 days for tourism purposes.
Questions asking during your job seeker visa interview
This is a list of questions that can be asked during the interview, collected from facebook groups.
Why do you want to leave for Germany in search of a job?

Do you intend to become a permanent resident of Germany?

How do you support yourself during your stay in Germany?

Why did you choose this subject at the graduation level?

Are you going to work in the same domain?

Do you have any previous work experience?

Do you have plans to carry out any small scale business when you enter Germany with this visa?
After applying for the Job Seeker Visa
I got the visa, what's next?
Congratulations, welcome to Germany!
Start learning German as well, this will help you in the long term. You can do this while you're still in your home country.
Do I need to come to Germany immediately after getting the visa?
No. Once you have received the JSV, you can choose to come to Germany when you would like to - within the validity of your visa. Some people move to Germany and then try to find a job. Some stay in their countries, apply for jobs and once they get a job offer, they then move to Germany. This depends a lot on your current job situation (resignation & notice period), your financial level, comfort of living abroad on your savings, etc.
JSV will be valid from the date which is mentioned on the visa and not entry date. Your travel insurance will be activated from your entry date. So you can choose to get the travel insurance at a much later date, before you choose to travel.
I got rejected, why?
If your visa application was rejected, you should have received a letter that explains why.

Common reasons for rejection are:
Lack of educational qualification for the visa

Lack of work experience

A false/counterfeit/forged travel document was presented

Justification for the purpose and conditions of the intended stay was not provided.

If you did not provide the required documents, or were not sufficient.

You have not provided proof of sufficient means of subsistence for the duration of the intended stay or for the return to the country of origin or residence, or for the transit to a third country into which you are certain to be admitted, or you are not in a position to acquire such means lawfully.

Insufficient funds on your bank account / lack of financial sponsorship

If the consulate / embassy did not believe you would come back to your country, if you did not find a job

The information submitted regarding the justification for the purpose and
conditions of the intended stay was not reliable.

If your information did not match up and was contradictory
In case of a rejection, you will not get your visa fees back.  You will have 30 days to appeal (remonstrate), provide additional documentation and try to get your visa approved.