I recently went through the German B1 TELC exam in Berlin and would like to share my experience on how it was, what I did to prepare, which parts I found difficult and what to expect for your exam as well. You can consider this as a short review and explanation of the exam.
My exam experience
I booked the exam three weeks before the date at DIE NEUE SCHULE in Berlin. It cost me 179€ for doing the entire exam on the same day. I received an email as a confirmation and that I should show up at 12:00 at the examination center.
On the day of exam, I had to show a proof of identity: either a Passport or a Permanent Residence permit. They verified the information and asked me to ensure that the data they have (Name, date of birth, address) is correct as the result certificate would contain this information. I then kept all of my belongings (except a pencil, eraser, sharpener and my ID card) in a locker.
At 12:20, we (a group of 11) were taken into the examination room. We were provided instructions on the format of the exam, the order in which it would happen and what to expect generally.
For our group, this was the order of the sections in which the exam took place.
| Time | Section | Duration |
| --- | --- | --- |
| 12:45 to 14:15 | Reading comprehension and language elements (vocabulary and grammar) (Leseverstehen und Sprachbausteine) | 90 minutes |
| 14:15 to 14:45 | Listening comprehension (Hörverstehen) | 30 minutes |
| 14:45 to 15:15 | Writing (Schriftlicher Ausdruck) | 30 minutes |
| To be announced depending on you and your partner | Oral examination (Mündliche Prüfung) | 15 minutes (20 minute preparation time and a break before that - more on that below) |
Reading comprehension and Grammar
Duration: 90 minutes
Time it took me: 70 minutes
---
Reading comprehension
| | Section | Number of questions |
| --- | --- | --- |
| Part 1 | Global comprehension | 5 tasks to match with answers |
| Part 2 | Detailed comprehension | 5 multiple choice questions |
| Part 3 | Selective comprehension | 10 tasks to match with answers |
Language Modules (Grammar)
| | Section | Number of questions |
| --- | --- | --- |
| Part 1 | Grammar | 10 multiple choice questions |
| Part 2 | Lexic (fill in Grammar - prepositions, modal verbs, etc) | 10 fill in the blanks and a total of 15 possible options |
For reading comprehension and general idea of the grammar, I worked with Grammatik Aktiv A1-B1 book. I was super happy with the way this book is structured and the examples provided in the book. There were in total 80 chapters in the book and I worked through most of them, mostly one or two per day and then watching YouTube videos if I was not confident enough.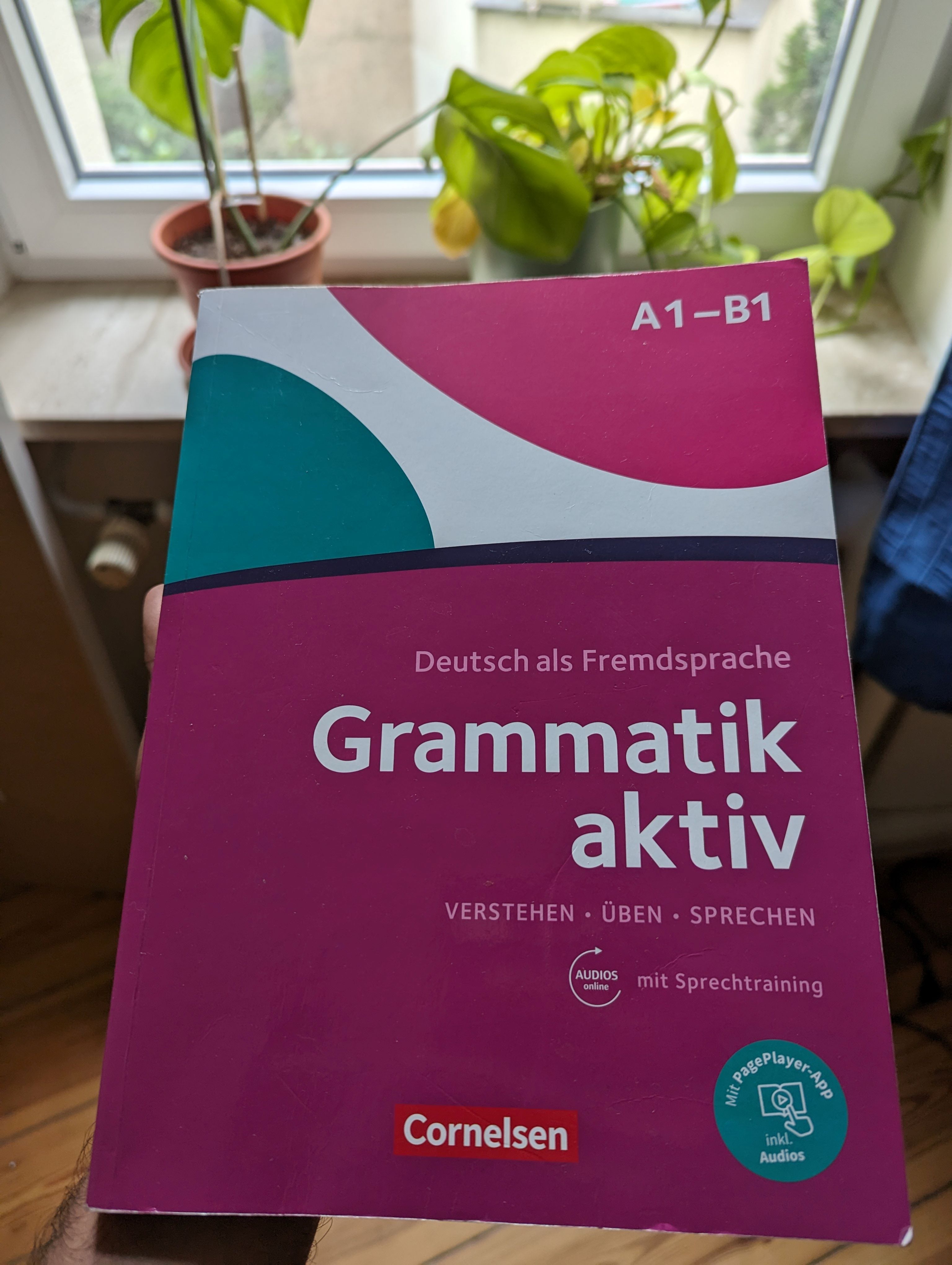 My Grammatik Aktiv A1-B1 book
When I did this section, I initially wrote down the tentative answers in the question book and then once I was done with all of the questions, I verified them and then shaded in the answer on the answer book with a pencil.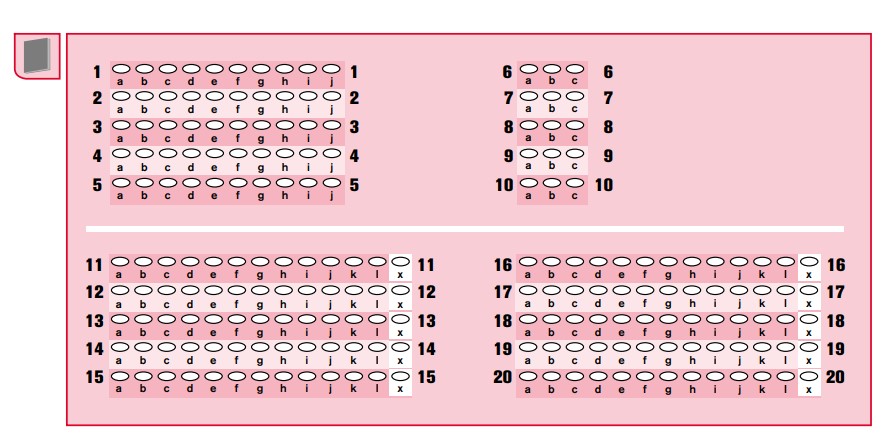 Answer sheet for the B1 Reading section
At 14:15, the examiner told us to stop writing anything more on the answer sheet. Then I had to tear down the first page of the answer book to hand it to the examiner, so we could not make any further changes.
Listening comprehension
Immediately after, the examiner mentioned that we will start the listening comprehension (Hörverstehen) section and that we will have to be quiet so everyone can hear well. The examiner then played the audio from a laptop.
I sat close to the front of the exam hall and since it was a smaller room with only 11 people, it was audible enough. To prepare for the listening exam, I did the following things:
Italki - I found a teacher on this platform and I highly recommend Elisabeth. I practiced speaking (and therefore listening) with her and she was super helpful to point out ways I could improve and to correct mistakes.

Listen to Podcasts on Spotify with headphones

Coffee Break German: Beginner friendly

Easy German: They talk fluently on this podcast and I would recommend this once you are already comfortable with German - maybe at the end of B1 or start of B2 proficiency. When I listened to this podcast, I focused on understanding the general gist of it and then looking up words that they repeated often (if I did not know them)

Slow German News: for B1 and above

Listen to YouTube videos without headphones
I found this section relatively easy as I have been living in Berlin for a few years now and that I could understand how spoken German sounds.
Writing
Duration: 30 minutes
Time it took me: 25 minutes
---
This was the section that I was most nervous about. Theoretically, if you did extremely well with Reading & Listening sections, you should not have to depend on writing section to pass the exam. Still, I wanted to write well.
The brief (it was around 120 to 140 words) for me was to write an email to a friend who is asking for my advice on celebrating the end of a German course, where to hold a party and if I would like to go on a vacation after together. I went a little overboard with my response (making sure I was using the du case) and it ended with around 140 words.
Most videos that I watched recommended to write only 80 to 120 words at maximum but I don't think this will be an issue. I will find out when I receive my results but that's a problem for another day.
To prepare for writing section, I read short stories on Kindle to help to understand the flow of sentences. For general vocabulary, I used this Anki Deck and did 10 to 15 words a day whenever I felt like this. This helps with spaced repetition and I found it super helpful.
Oral examination
At 15:15, the first part of the exam as over and we were told that in a few minutes, they will tell us our slots for the speaking exam. The 11 of us were split into two groups. The first group would start their exam at 15:45 and the second group is likely to start around 16:45. I was part of group two and I arrived again at 16:45 to the examination center after going for a walk.
Since the exam happened for 2 people at a time, there was a delay and my slot was to start at 17:00. I was assigned a partner and we were both taken to a room to prepare for 20 minutes. We wrote down short notes on talking points.
At 17:15, we went into the exam room with two examiners. They introduced themselves, told us that we have 15 minutes in total (for both of us together) for three parts and that it should be a conversation, not a monologue. The three parts were:
Introduction (3 minutes in total)

Explain a concept we read during preparation and what our view point was, this was about sport benefits & disadvantages (6 minutes in total)

Plan a work party together (6 minutes)
The 15 minutes went by really quickly and this depends on how comfortable you are talking about topics. I did not focus too much on the grammar, rather how to express my ideas on it.
---
Once the exam was over, they told us to expect the result in 5 to 6 weeks. Overall, the exam experience was pretty smooth although super tiring. It has been more than 6 years since I last took an exam and I did not realise how draining it is to think in a foreign language all day for an exam.
---
Update on 12.08.2023:
Five weeks after the exam took place, I emailed DIE NEUE SCHULE about the results and told them that I have not received any information yet. I had been expecting the exam results and certificate to be sent home by post either by them or from TELC. They replied in a day saying that the certificate is ready for pickup. I had successfully passed the B1 TELC exam with a 273 / 300 (🎉 !!) which counts as a "sehr gut" grade.