Last week, I renewed my Indian passport in Berlin which was due to expire later in 2023. My permanent residence (Niederlassungserlaubnis) has the same expiry date as my old passport did. So I had to find out how to renew my permanent residence to stay in Germany.
Ausländerbehörde or Bürgeramt?
First question that came into my head was: do I need to the Ausländerbehörde or do I go to the Bürgeramt? My permanent residence and blue card were both issued by Ausländerbehörde so I thought I would have to go to them for renewal. I dreaded finding an appointment with Ausländerbehörde - you can read more about this on the Local or on Reddit experiences: 1, 2, 3.
Important thing to note is that while my permanent residence card was due to expire later in 2023, the validity of my visa itself is unlimited, so I could go to Bürgeramt. If your visa is about to expire, then you will need to go Ausländerbehörde for extension or renewal.
I started looking for experiences online and reached out to people that I knew who went through the same process. They mentioned that the Bürgeramt in Berlin can handle this for some common scenarios.
The requirements were:
Have your main residence in Berlin and you still reside in Germany

Your residence permit (Blue card, permanent residence, etc) had to be issued in Berlin

You still have your old passport

Your new passport was issued less than 6 months from the expiry of the old passport
If you did not fall under these, you would have to go to the Ausländerbehörde. Some cases would be:
You live in Berlin now but your residence permit was issued somewhere else in Germany

You do not have your old passport
Relevant pages to read about and booking an appointment:
Finding an appointment at the Bürgeramt
Finding an appointment at the Bürgeramt in Berlin is still difficult but not as bad as finding an appointmeint at an Ausländerbehörde. Seeing this screen on the website is one of the experiences that everyone on Berlin has gone through.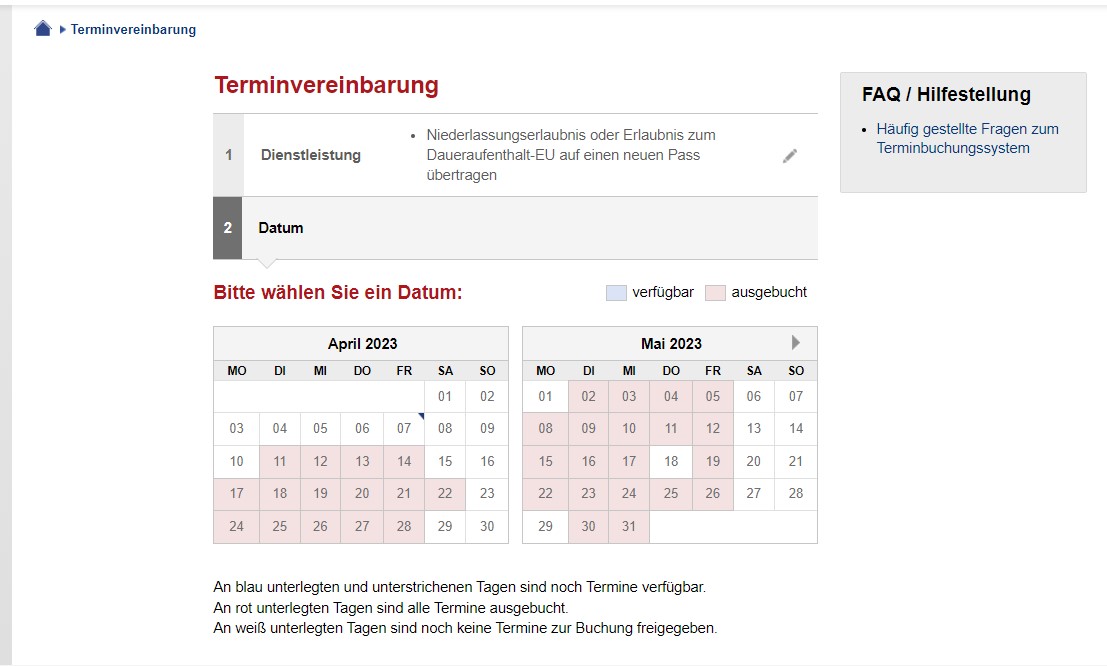 Some tips and tricks for getting an Bürgeramt appointment were really useful from this Reddit thread.
Appointments are mostly released during office hours, since it's done manually. Any time before noon is a good time to check. On the weekends, you mostly get to book slots that other people cancelled.

Each location can decide how many appointments are available online, and how many are available by calling 115. This is why calling 115 usually works better. They also keep unreleased appointments that they can hand out individually, so if you email them, you can get a "secret" slot.

Going in person is not allowed, but this might change soon.
I did see some appointments at around 9 AM but they were gone too fast; probably by people using bots to book them.
Someone I know mentioned that you could email the Bürgeramt and that they received an appointment within a day. I had really low expections about this yet I tried. I sent an email to them asking for an appointment to extend my residence permit.
To my surprise they arranged an appointment for me within 20 minutes! This was the email that I sent:
Guten Tag,

Mein Name ist Adithya Srinivasan und mein Geburtsdatum lautet xx.xx.xxxx. Ich habe einen neuen Reisepass erhalten und mein Niederlassungserlaubnis läuft dieses Jahr ab. Ich möchte einen Termin vereinbaren, um meine Niederlassungserlaubnis in meinen neuen Reisepass zu übertragen und die zu verlängern.

mit Freundlichen Grüßen

Adithya Srinivasan
I mentioned this to three other people and they all got appointments soon after. They sent an email to the Bürgeramt at Hohenzollerndamm and Tempelhof-Schöneberg.
Finding email addresses for your Bürgeramt
Go to this page that lists all Bürgerämter in Berlin

Choose one from the list

Confirm on their list of services that they offer transfer of your residence permit

On the page, you will see the location information and the email address (and fax!)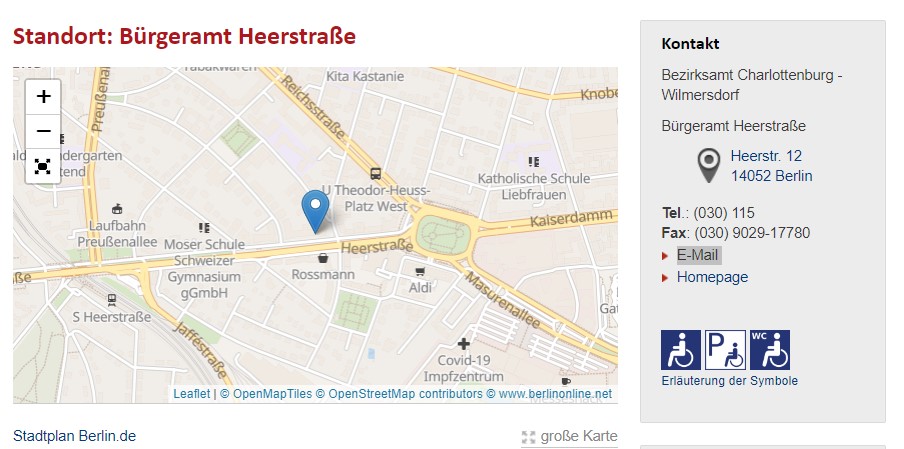 Day of appointment
On the day of my appointment, this is what I did.
Go to the Bürgeramt and wait for the appointment number to show up on the screen

Give them the required documents

Old passport

New passport

Permanent residence card

A biometric photo of 35mm x 45mm

The case officer entered my details, asked me to verify and sign the document

They took my fingerprint, asked me about my height and eye color (it's brown if you are curious)

Paid a fee of 67€ (with a card)
They gave me a proof of payment and mentioned that I would receive a letter for the electronic residence permit card containing the PIN. They mentioned that once the card is ready, I'll get a letter and that I can pick it up at the Bürgeramt without an appointment.
The validity of the new permanent residence card is until my new passport expires. That's in 10 years.
Timeline expected is around 4 weeks but I will update here once I get the card.
Receiving the new residence permit card
Update from 06.06.2023: Around 3 weeks after the appointment, I received a letter with the PIN for online identification (online-ausweisfunktion). Then I waited for the residence permit card (which never arrived).
On 05.06.2023, I emailed the Bürgeramt where I had my appointment and asked them if my residence permit is ready for pickup. They replied two hours later saying it is. I was surprised to have received no notification of this through a letter.
I went to the Zehlendorf Bürgeramt without an appointment, picked up a Wartenummer (Waiting number), then went to the desk and picked up my card. I had to show my old & new passport and return my old permanent residence card.