I go for at least two professional dental cleanings every year. On the most recent visit in July, my dentist asked when was the last time my teeth were X-ray'd. I said it's been a while and he recommended doing one in the clinic. After taking an X-ray, he suggested that all 4 of my wisdom teeth (Weisheitszähne) should be removed as soon as possible and provided me a referral (Überweisung).
Initial consultation
I made an appointment via Doctolib for a Oral surgeon (Mund-Kiefer-Gesichtschirurgie) and went there with my referral. This dentist also suggested the removal of my wisdom teeth. He recommended that we do an X-ray tomography (which is 3D X-ray) - optional - to get a better idea about the placement of the wisdom teeth and the nerve around my jaw.
Costs for X-ray tomography would be around 160€ and would not be covered by the public health insurance (Gesetzliche Krankenkassen). We proceeded ahead with it and on seeing the results, he explained that my wisdom teeth can be safely removed without affecting the nerve.
We agreed on a date for the removal and he prescribed me anti-biotics, which when I got at a pharmacy for free. The prescription (Rezept) was different to what I have received so far; this was a digital prescription.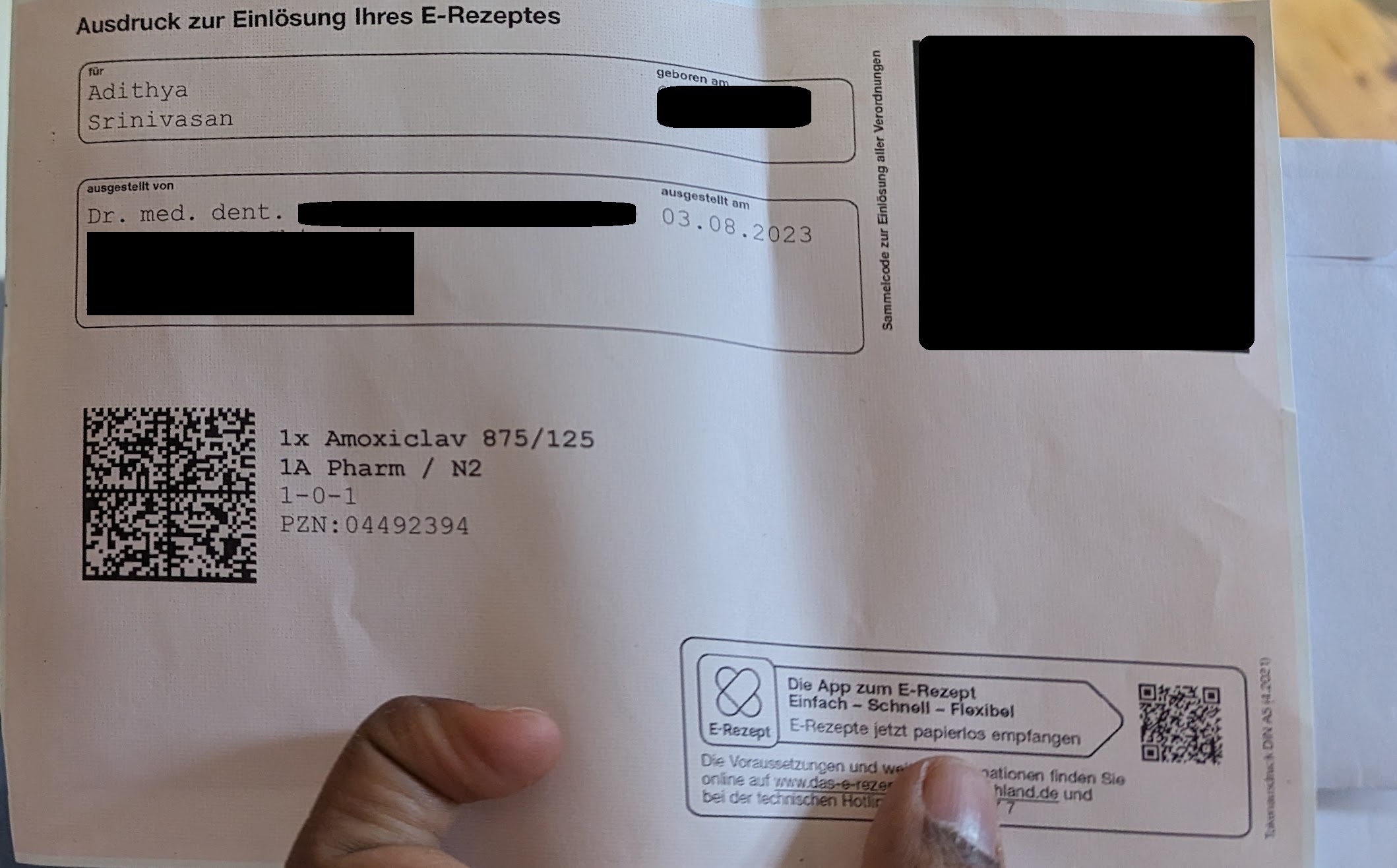 E-Rezept
Day of surgery
The surgery took around 1,5 hours to be completed. Before that, they gave me three options for pain management.
Only local anesthesia (on the gums). Would be covered by public health insurance.

Sedation + local anesthesia. Sedation would not be covered by public health insurance and would cost around 160€.

General anesthesia. Not covered by public health insurance and would cost around 160€.
I chose sedation and paid out of pocket for it. I needed to be picked up by someone after surgery to leave the dentist. The surgery was a pleasant experience, I did not wake up until after the wisdom teeth were removed. The dentist also provided me a sick note (Krankschreibung) for sick leave for a week.
I have private dental insurance (Zahnzusatzversicherung) from Barmenia and with my plan, they covered 90% of the costs for X-ray tomography and the surgery. This means that at the end of it, I paid only around 30€ for the entire process. I'm pretty happy with it!
Recovery timeline
The first two days were definitely the most difficult as I could not move my jaw at all and had a lot of swelling. I applied a lot of ice-packs, ate drank food (without straws!) and rested a lot.
For pain management at home, the dentist recommended that I take an ibuprofen every four to six hours for the first few days and then gradually adjust it based on the pain. The swelling started reducing around day 4 and the pain as well.
Update after a week:
Recovery went well and I have had no issues at all. I did have another appointment on the 8th day where the dentist checked how I was healing and removed the stitches.