I use the Deutsche Bahn (DB) ICE often to travel across Germany. More often that not, my trains have been delayed to various degrees. In fact, Deutsche Bahn admitted that around 75% of their trains were "on-time". Luckily, DB offers refunds under certain conditions and I have made use of it.
In this guide, I will post my experience of how I got a partial compensation for my delayed train earlier this year in August. It took them around a week to process my request.
How much refund can you get?
This applies to all types of tickets that you can buy for an IC or ICE train - Super Saver, Saver, Flexible tickets, etc.  And only if you have completed the trip already.
The refund amount depends on how delayed your train was and must be at least 4€ to be paid out.
Train was delayed for at least 60 minutes: 25% of the money back

Train was delayed for at least 120 minutes: 50% of the money back
If your train stopped before destination, or you took alternate transport means, booked a hotel for stay, you can also claim compensation. You can read about all of the scenarios here:
https://www.bahn.com/en/booking-information/passenger-rights/passenger-rights-in-rail-transport
Applying for a refund
There are two ways to ask for a refund or compensation. You can either:
Refund through the DB mobile application
DB announced the possibility to request a refund through their application or website. Make sure you open the application and login, then you can follow the steps on how I did it.
Go to My Tickets and click on the settings icon at the top, make sure that "Only Valid" is not selected. This allows you to see older tickets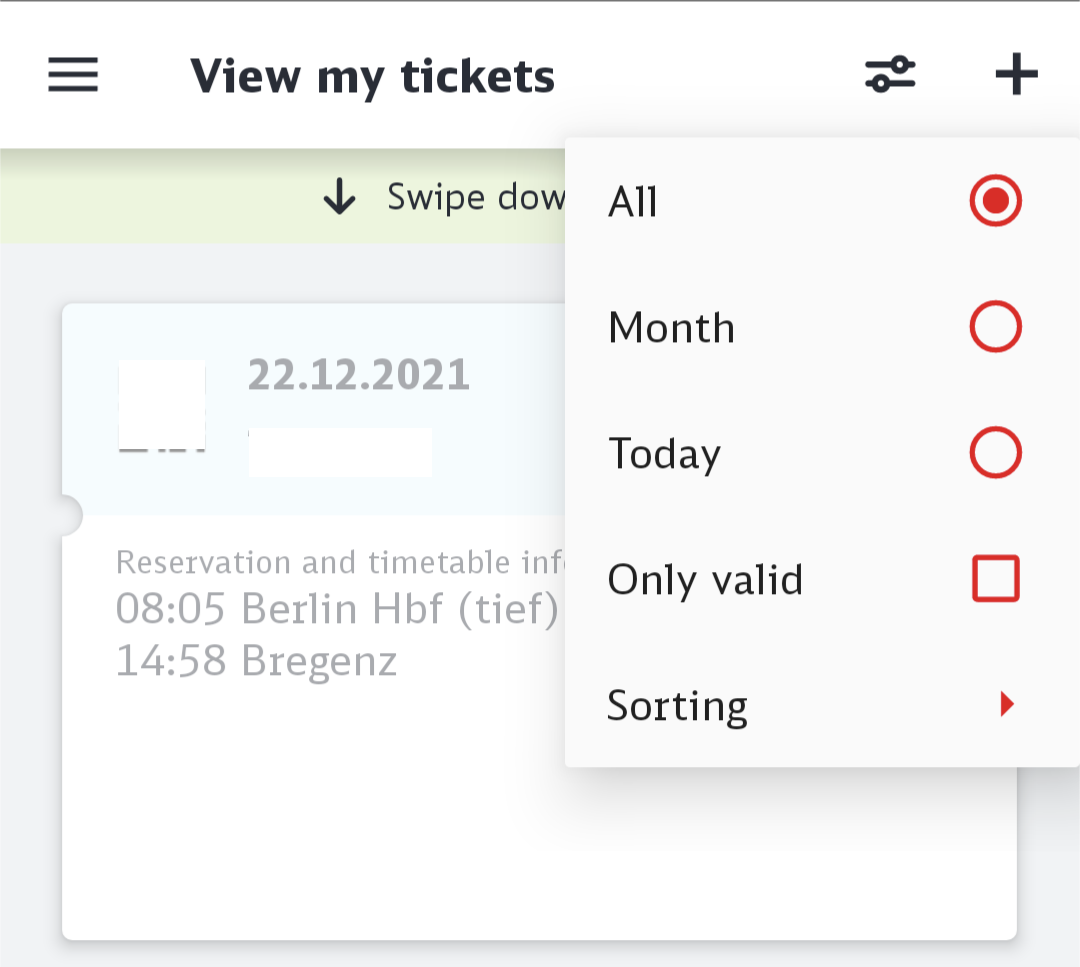 Deutsche Bahn app - see old tickets
Choose your ticket and click on "Edit Order". If you don't see Edit Order, click on the three dots "..." and then choose it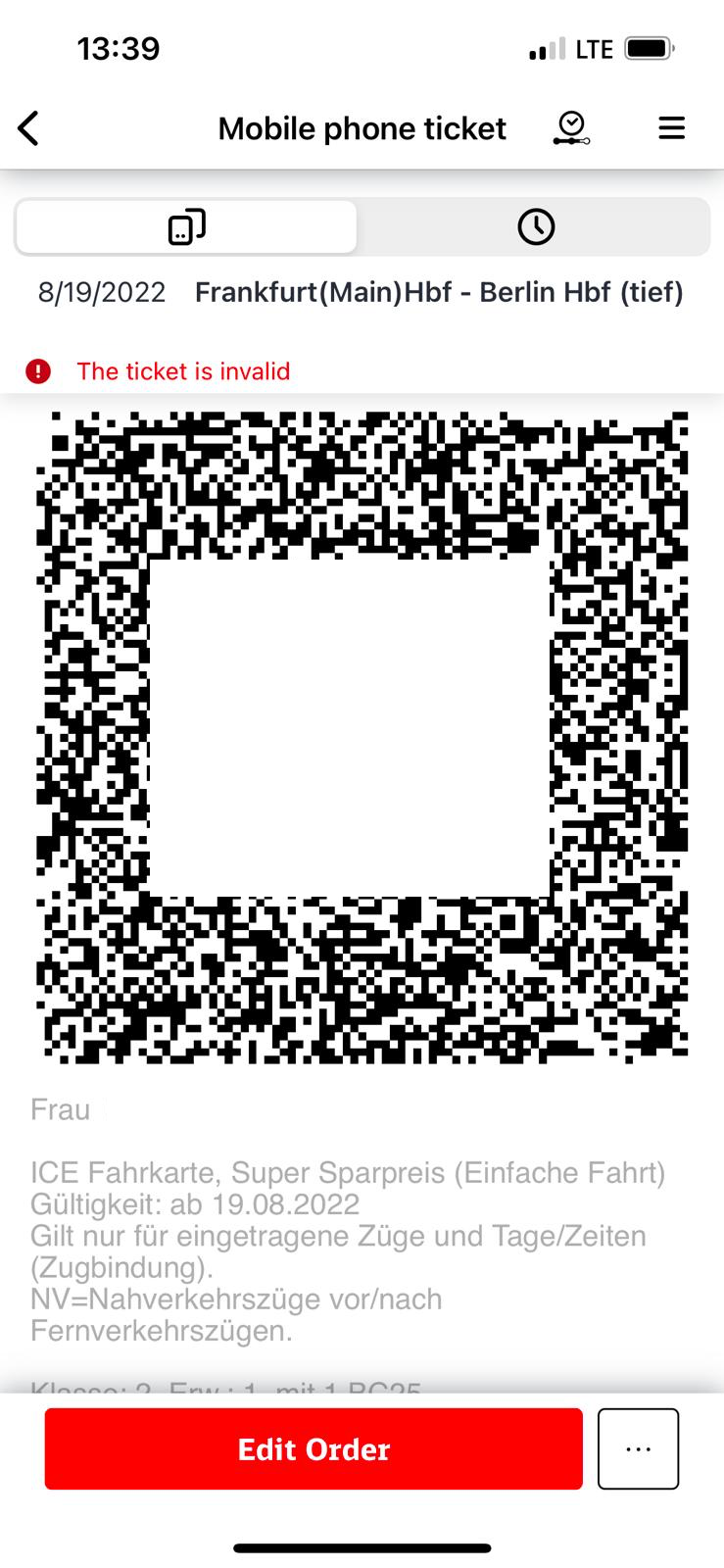 Editing a train ticket for a refund
On the Edit Order screen, you can see the information about your ticket and the up-to-date passenger rights information. Click on "Submit passenger rights request"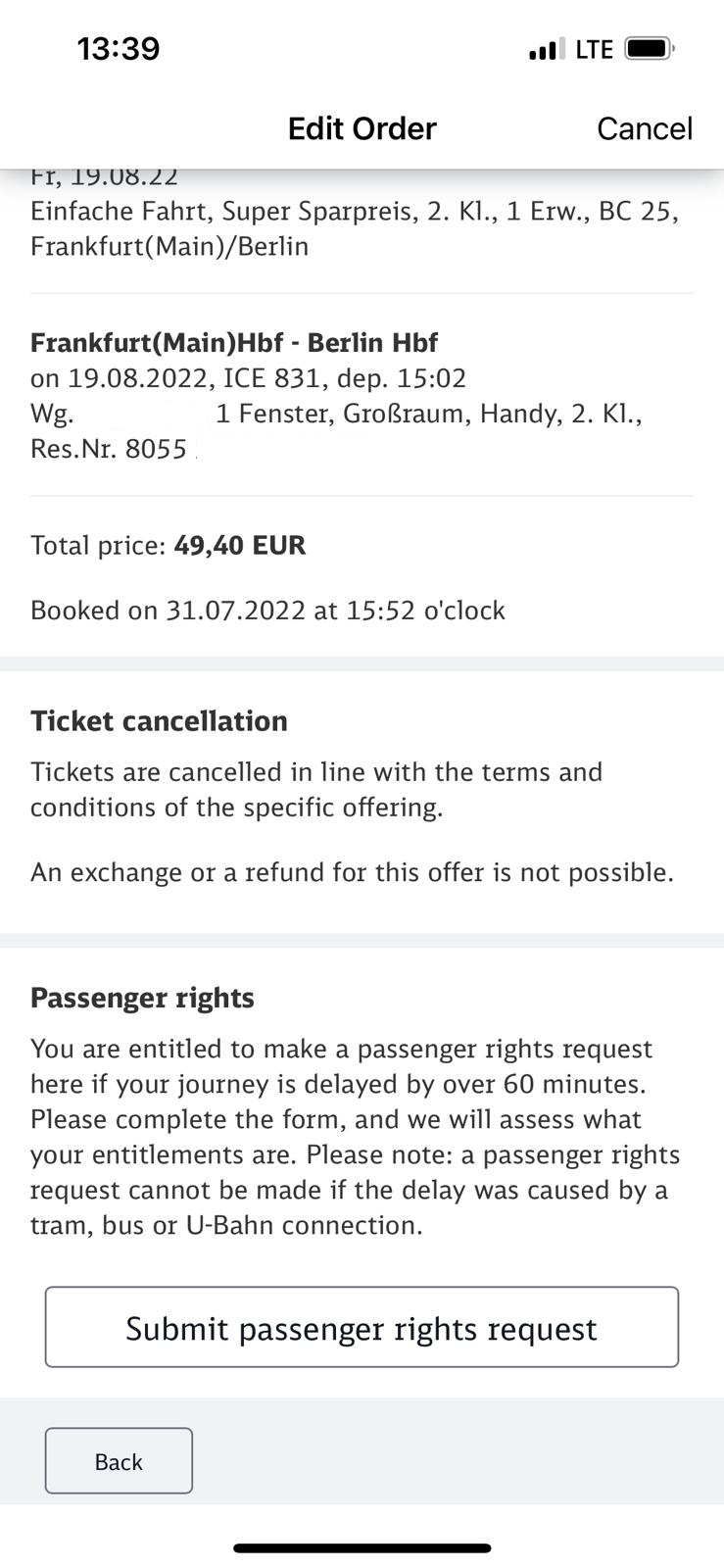 Submit compensation request
Click on "Send request now"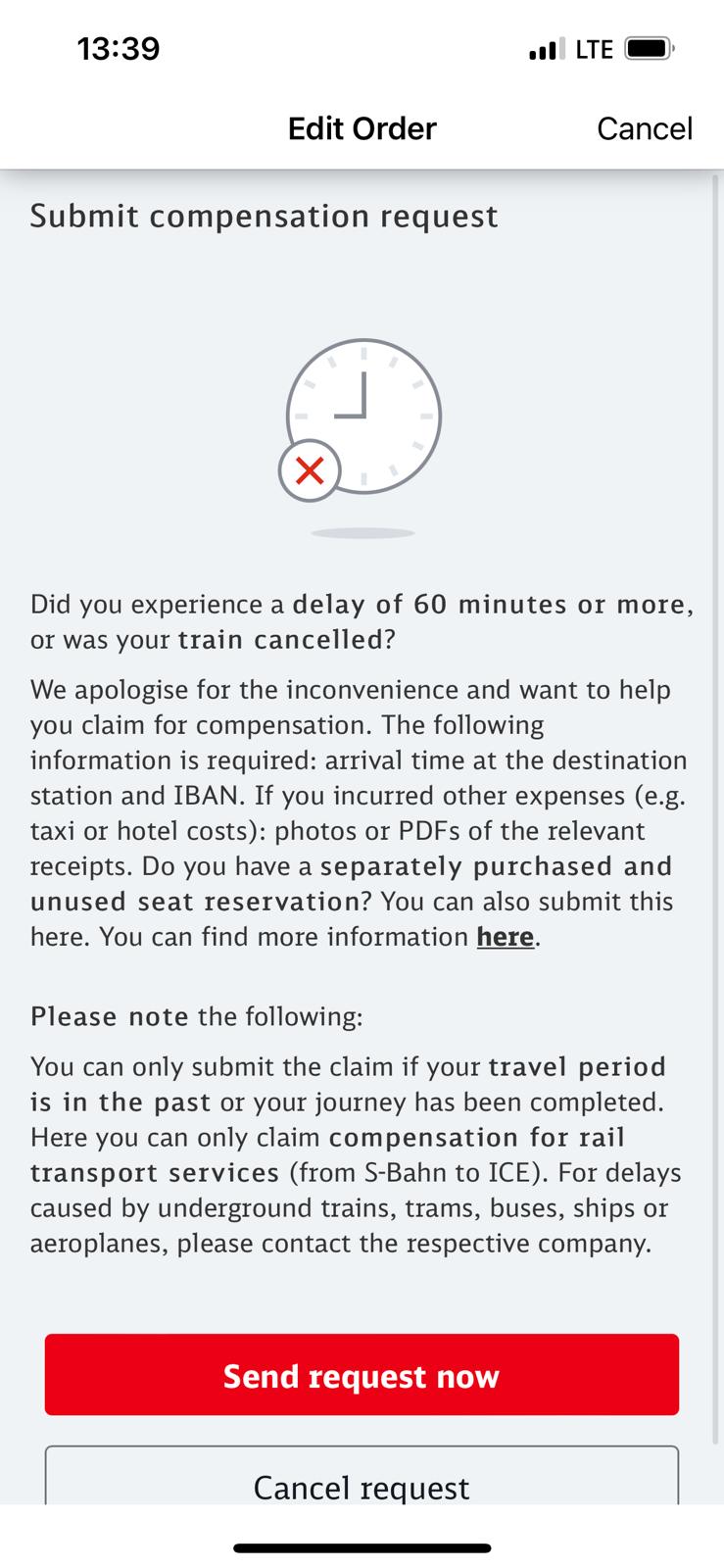 Send request now
Select the reason for requesting compensation. In my case, it was "delayed arrival at destination"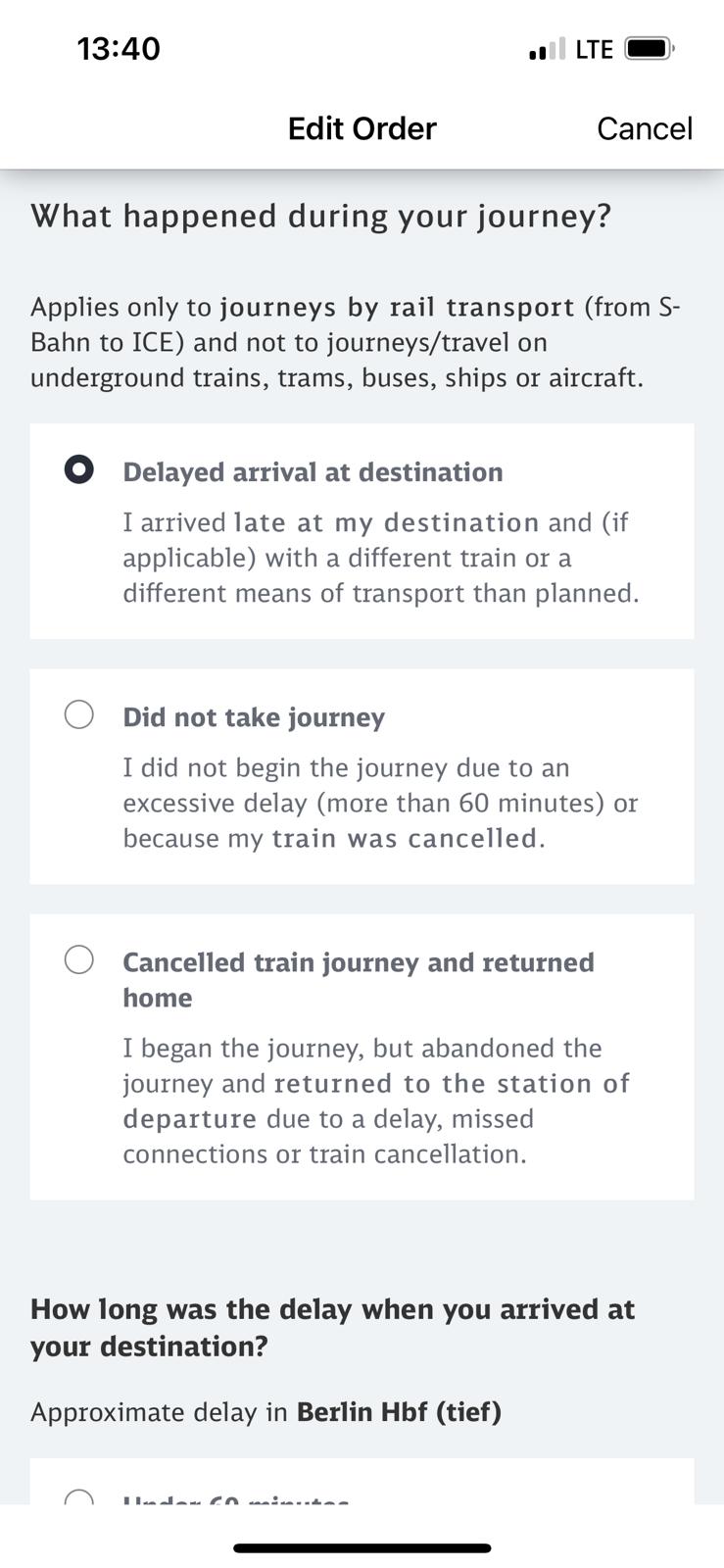 delayed arrival at destination
Choose "at least 60 minutes" if that is applicable to you.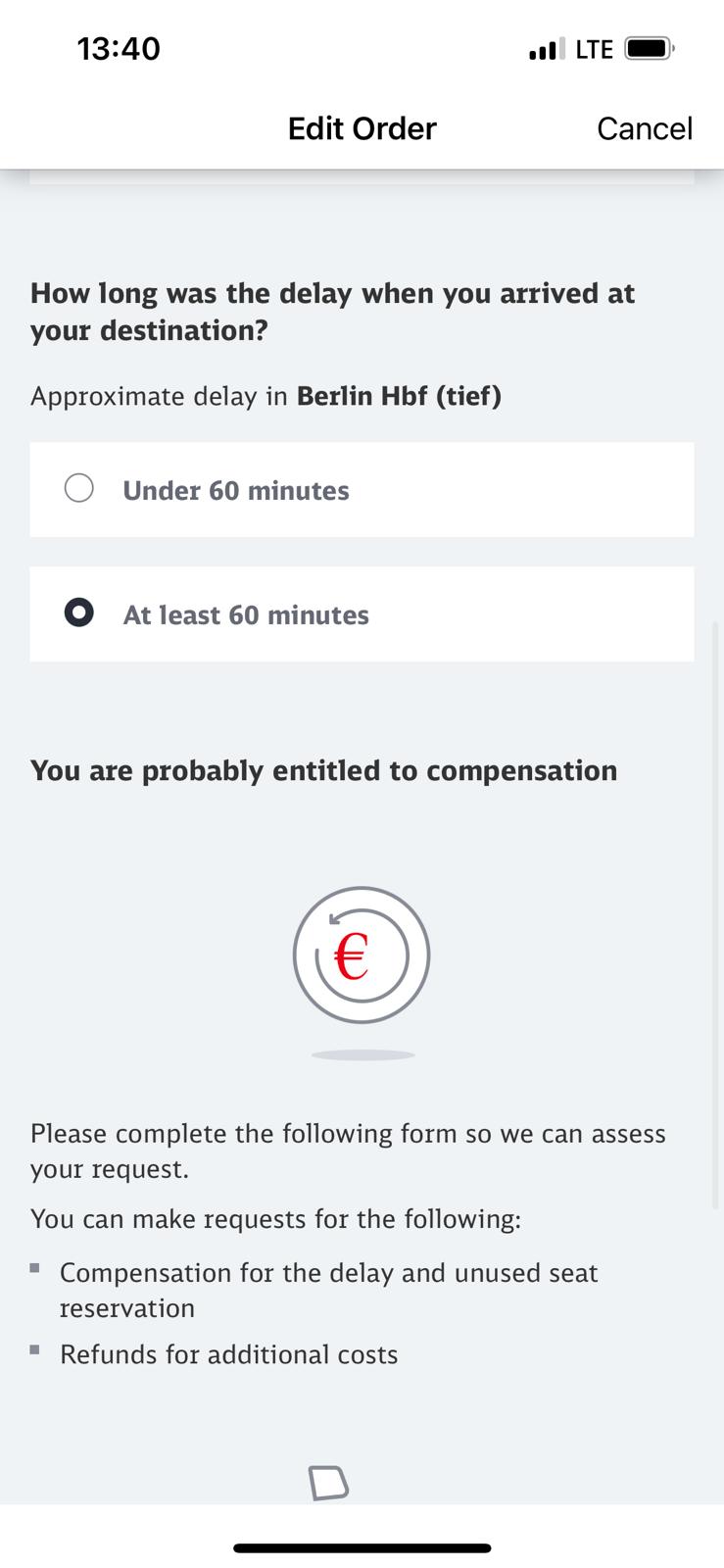 How long the train was delayed
Check the pre-filled information on the ticket and adjust if it is incorrect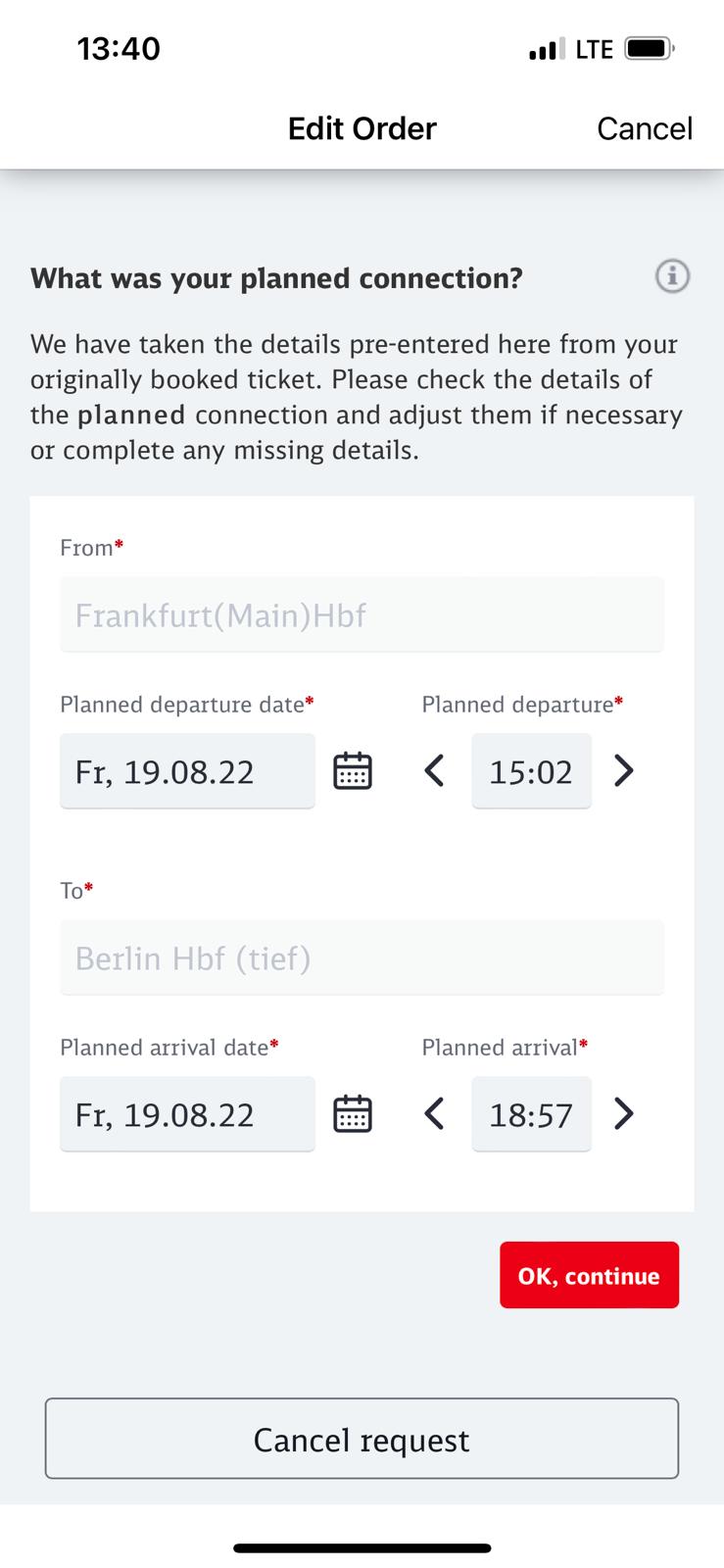 Planned arrival timing
Enter when your train actually arrived at the destination. This helps them calculate the time delayed and your compensation accordingly.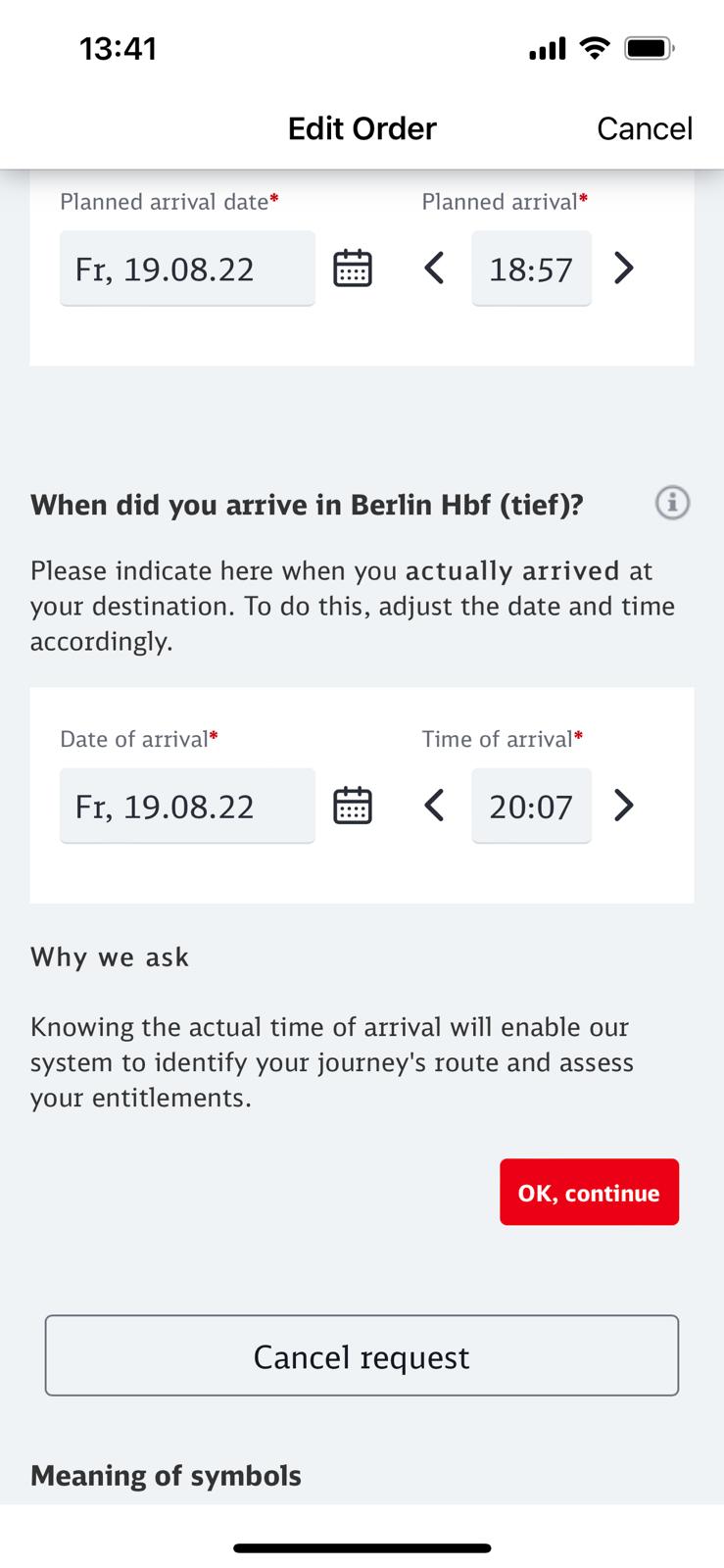 Actual time of arrival
Choose "yes" if you stayed on the train and it was only delayed. If you took other transport, choose "no".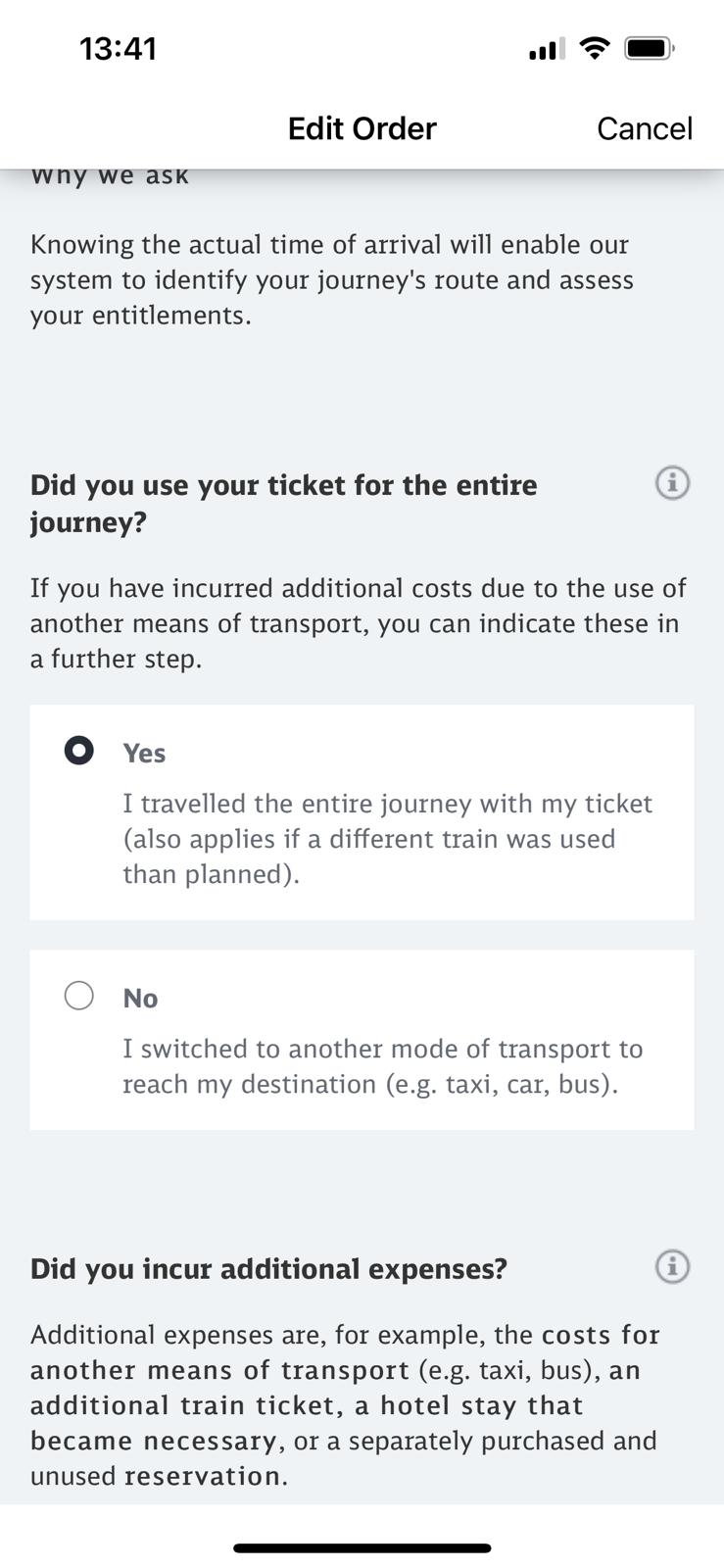 Claims for compensation
Choose "no" if you had no other additional expenses. If you choose "yes", you will need to submit invoices / receipts as proof.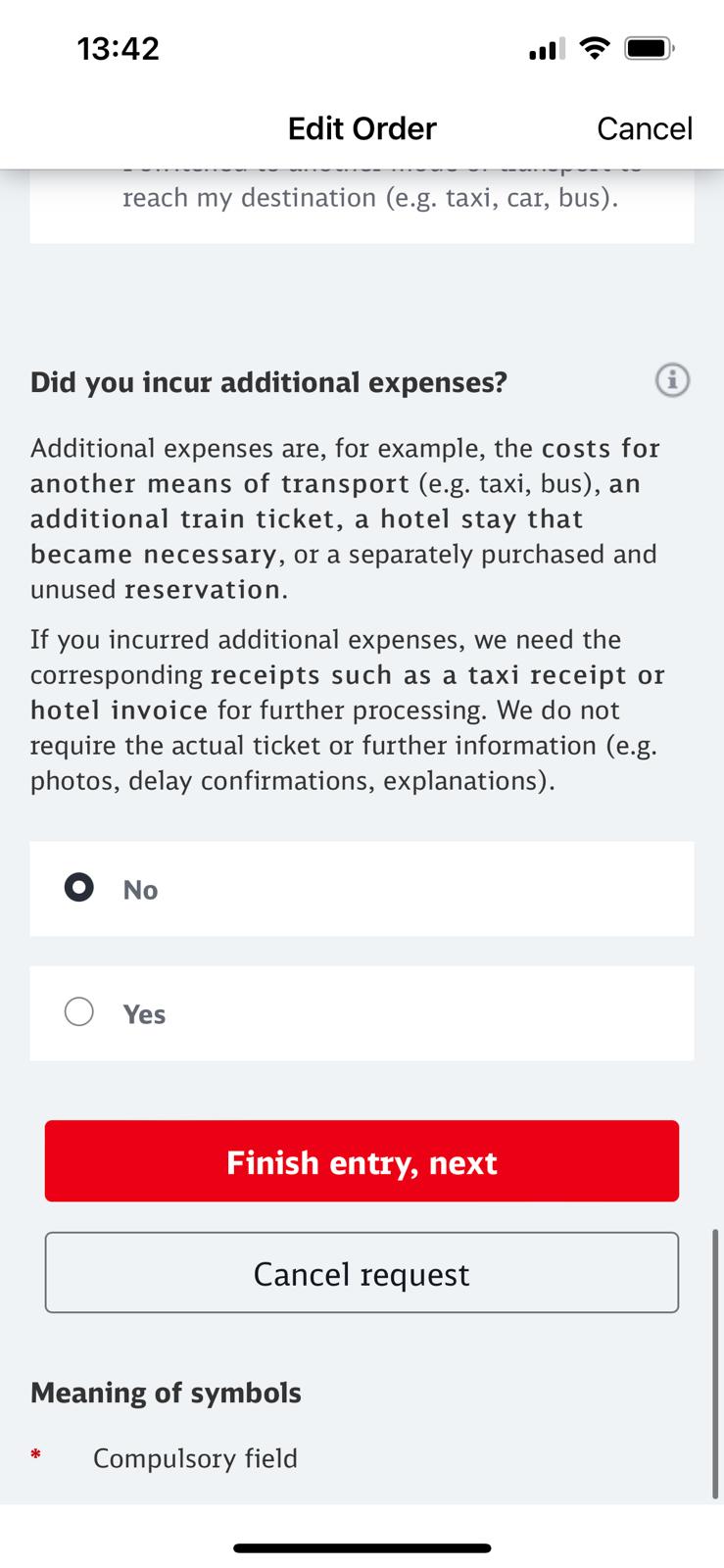 Additional expenses
On the next screen, enter your personal information - first name, last name, address, etc.

You can choose either a voucher or a bank transfer. Choose the option you prefer. For bank transfer, you will need to provide your IBAN number.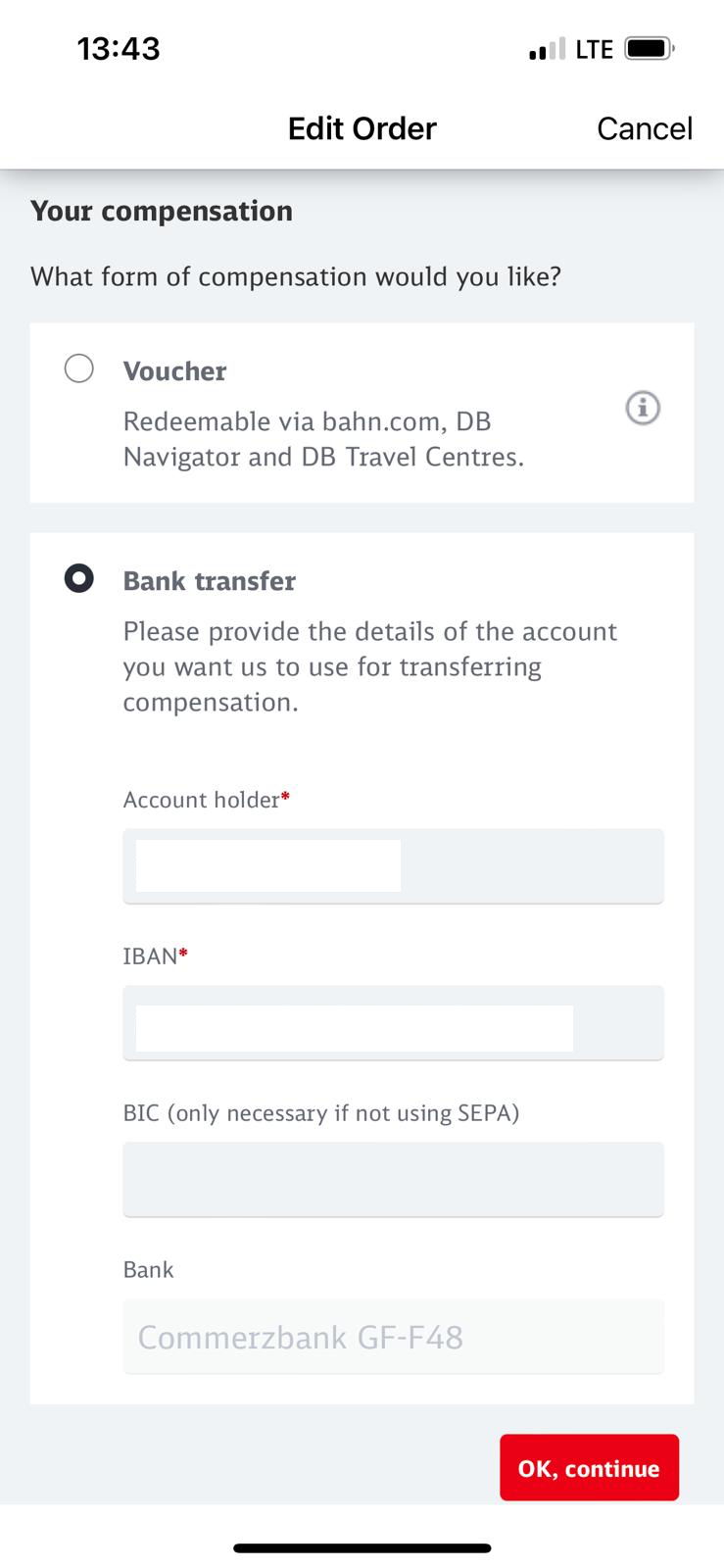 Compensation method
Click on "Make a request"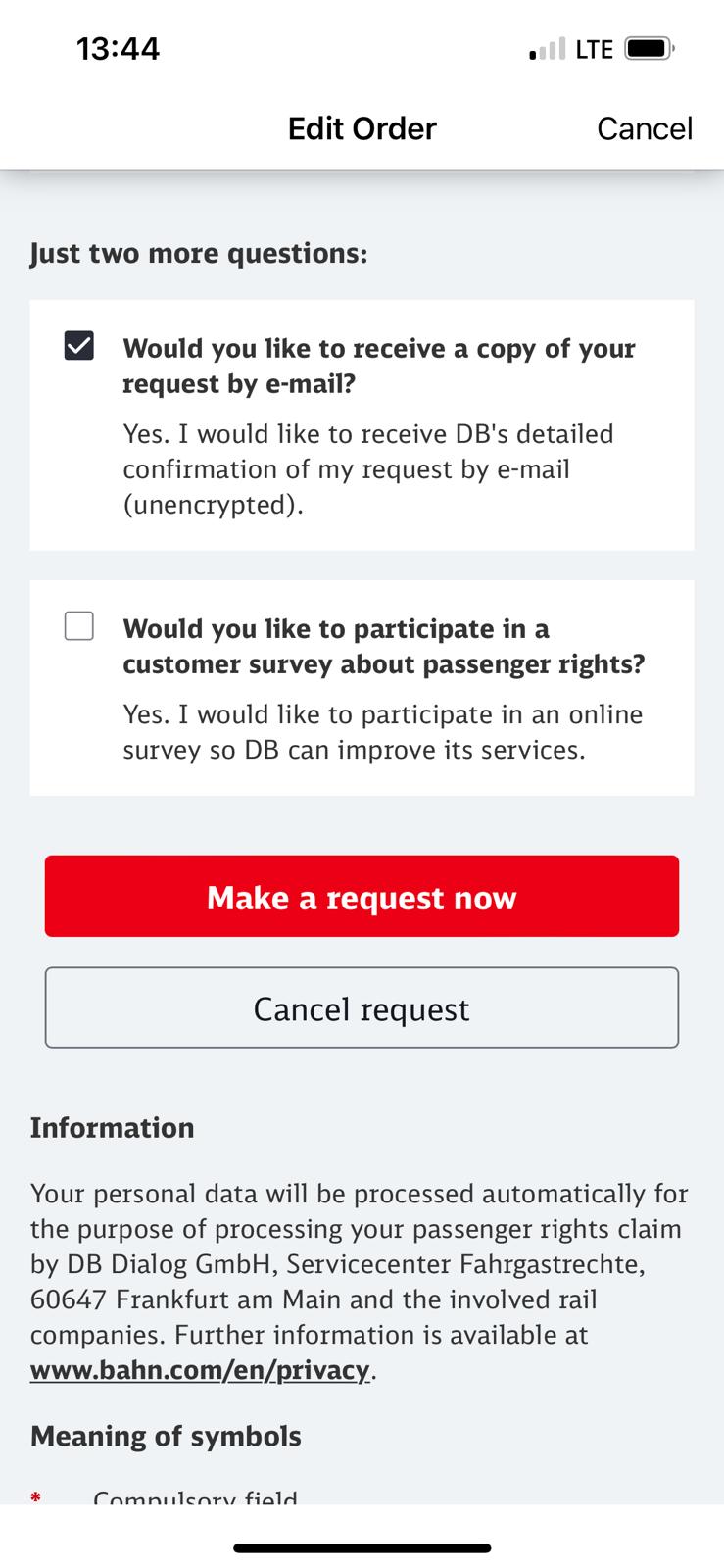 Make a request for refund
You will see a confirmation of request.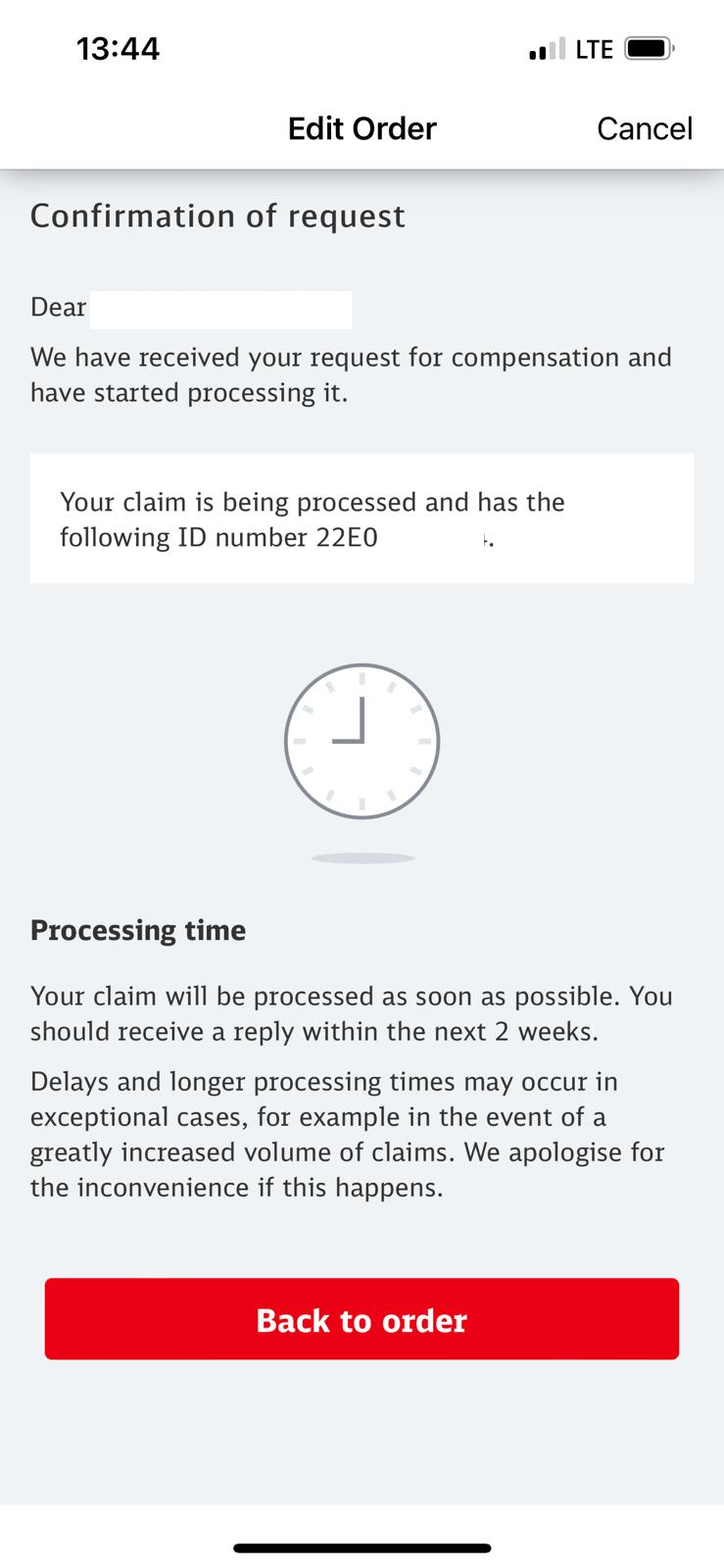 Confirmation of request
In a week or two, you should receive communication (letter or email) that states if your request for refund has been granted or not. I received mine in around a week.