Are you looking into hiring a new employee for your business? If so, you may have come across the acronym 'ATS'. But, what is an ATS? How can it help you? And most importantly, is an ATS right for you?
To help you make these decisions and to shed some light on this tricky subject, Arbeitnow has partnered with the ATS experts at JOIN, who can help you make this decision. JOIN are ATS leaders, who frequently help businesses who are looking to expand. In short, they know their ATS facts!
What is an ATS?
An Applicant Tracking System (ATS) is software that recruiters, companies, or hiring managers can use to streamline the hiring process. While different ATSs have different uses, the main goal is always to simplify the recruitment process.
What are the main features of an ATS?
As mentioned, different ATSs tend to have different functions. However, there are some common features that an ATS may provide, such as:
Collecting applications to open job advertisements

Sorting applications into 'qualified' and 'unqualified' lists

Filtering applicants into various folders, for example, by certain degrees or experience

Collaboration tools for teams who are hiring

Application analytics
Some less common, but no less useful features that an ATS can provide are:
Multiposting a job ad to several job boards at once

Employee referral programmes

Integration with a company career page

Interview management tools

A tool to communicate with candidates
Who can benefit from an ATS?
An ATS can help any business that is currently hiring or is planning to hire in the future.
However, it can be beneficial for companies who are looking to grow their team significantly. This is due to the fact that when hiring multiple roles at once, without an ATS, the hiring manager's inbox is sure to get messy. Whereas when using an ATS, applications can more easily be collected and sorted.
Using an ATS is also recommended for smaller businesses without a dedicated recruitment or HR team. The ATS can help to simplify the hiring process, by collecting applications and allowing easier collaboration between those involved in hiring.
How JOIN's ATS can help your business?
A popular ATS on the market right now is JOIN, which offers a fully free version that allows you to post your job ad to multiple job boards at once. Since it's free, it's a particularly popular solution among small-and-medium-sized businesses.
But JOIN makes a great choice for any business looking to use an ATS, regardless of size, as along with their existing useful current features, they're constantly improving and updating their tool.
To help give you a better understanding of how JOIN's ATS can improve your hiring process, here are the top four features of JOIN.
Access features for free
A huge benefit of JOIN is that you can use most features for free! Alongside their paid premium job posting, companies can make use of up to three free job ads, posted to 10+ free job boards. The multiposting tool means that you can post these three free ads with just one click!
Multiposting a job
One of JOIN's most standout features is your ability to post a job ad to multiple job boards at once, with a single click. This saves a lot of time and effort. Additionally, JOIN can recommend job boards for your open role based on location, job type, and other important factors. Meaning, your recruitment pool is broader than ever before!
These job boards include popular, large options like LinkedIn, to more niche, targeted boards such as Arbeitnow!
Communicate with candidates
A recent addition to JOIN's features is the 'Communicate' module. This allows recruiters, HR Managers, or anyone else on your team to chat directly with candidates within JOIN.
The result? More streamlined communication, a cleaner inbox, and a faster response time. Now, rather than having to forward emails to your team if you want to share information that a candidate has sent, team members can simply log in to JOIN and see the conversation themselves.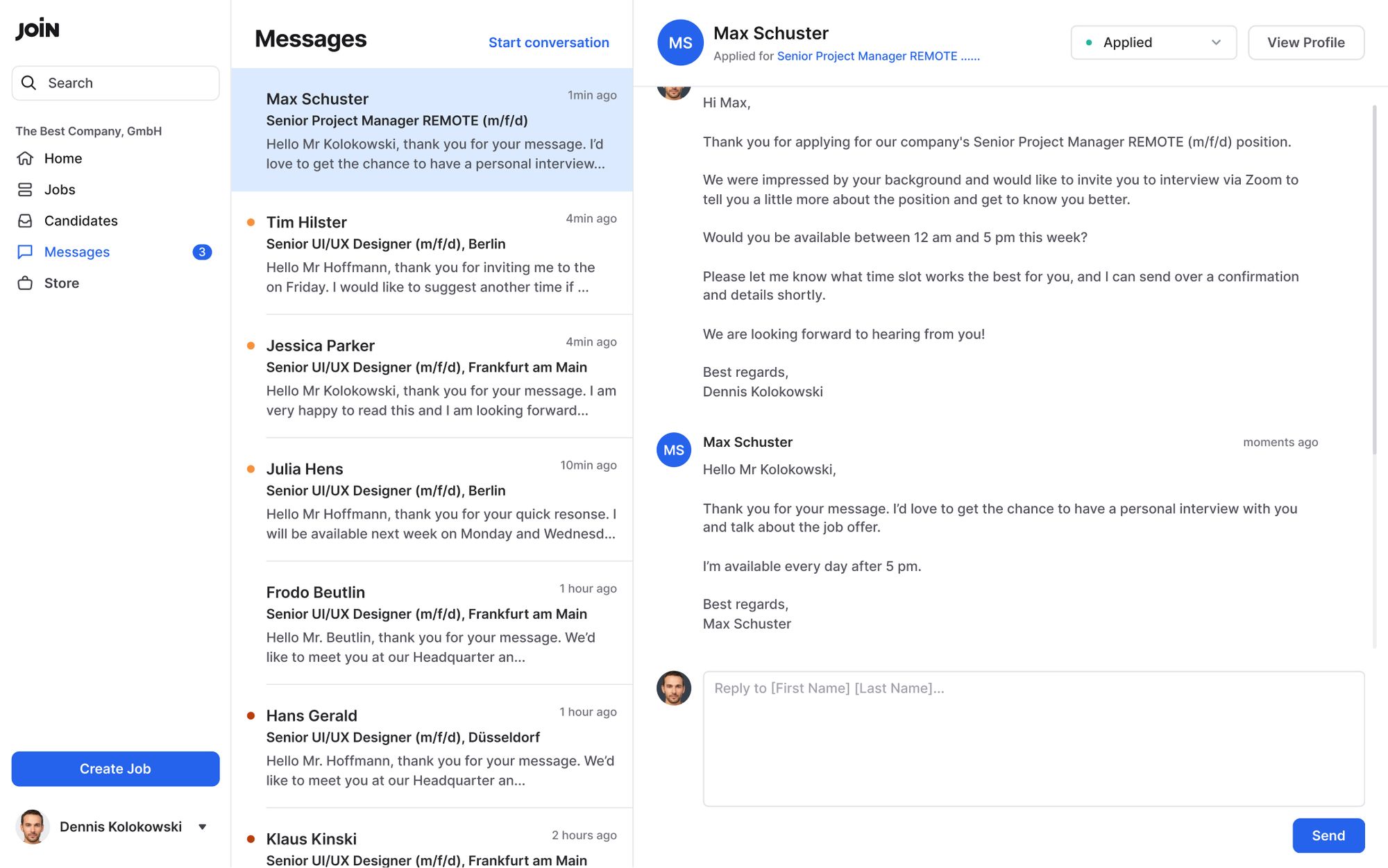 JOIN.com ATS
International hiring
JOIN is supported in several countries including Germany, Spain, France, Austria, Switzerland, and The Netherlands (with more markets on the horizon!). This means that if you're looking to expand your team internationally, JOIN can help you achieve just that.
You can use job boards across the globe to better hire in different countries!
Who benefits from using JOIN?
While JOIN is a useful tool for any business that's looking to expand, it is particularly useful for smaller businesses and start-ups that don't have the same recruitment budget as larger companies. The option to post jobs for free, as well as receive discounts on premium job boards, means small businesses can more easily garner attention on these boards.
Alongside this, companies which are looking to hire internationally can also benefit from JOIN, as JOIN works with multiple job boards all over Europe.
JOIN is also a useful choice for businesses looking to rapidly expand, as it collects applications from across all job boards in one place. This takes a huge amount of administrative time and effort out of the process, and means responses and decisions can be made faster!
Find out more about using an ATS
Does an ATS sound like something you could benefit from? For more information, check out the JOIN Website, or check out their integrations for more options!
Disclosure: This article is a collaboration between JOIN and Arbeitnow